Find this product on Logos.com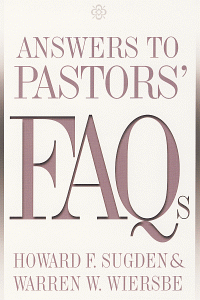 Highlights
Offers a brief guidebook for new pastors on the most frequently asked questions
Product Details
Imagine what it would be like to have two highly respected pastors agree to help you tackle every tough situation that you and your church will face in the coming years. That is exactly what you have in this one-of-a-kind resource from Howard F. Sugden & Warren W. Wiersbe. Pulled from decades of pastoral experience, Sugden and Wiersbe provide answers that you won't find in seminaries—answers that both new and experienced pastors need to know to survive and thrive in ministry.
About the Authors

The late Howard F. Sugden pastored the South Baptist Church in Lansing, Michigan, from 1954-1991. He previously ministered in several churches in Canada and the mid-western United States. He held a B.R.E. from the Winona Lake School of Theology and received honorary doctorates from Wheaton College and Western Baptist Seminary. He went to be with his Lord forever on October 14, 1993.
Warren Wendel Wiersbe studied at Indiana University, Roosevelt University, and Graduated from Northern Baptist Theological Seminary in 1953. While attending Seminary, Warren Wiersbe was ordained as pastor of Central Baptist Church in 1951 and served until 1957. From September, 1957 to 1961, Warren Wiersbe served as Director of The Literature Division for Youth for Christ International. From 1961 to 1971 he pastored Calvary Baptist Church of Covington, Kentucky. The church grew from a church seating a congregation of eight hundred to building a new church with a seating of two thousand. From 1971 to 1978, Warren Wiersbe pastored Chicago's Moody Memorial Church.
Warren Wiersbe was awarded two honorary Doctorate Degrees and has accumulated in his personal library more then ten thousand books. Some times referred to as "the pastor's pastor", Dr. Wiersbe has become a well known and trusted Bible theologian and scholar throughout Fundamental and Evangelical circles. He and his wife, Betty, reside in Lincoln, Nebraska.
Endorsements
Warren Wiersbe has written or edited over 200 books. I have them all. Why? He's so balanced and biblical. While I'm blessed to have him as a treasured friend and hero, he doesn't want to be on the phone with me everyday. But I can read his works any day that I want. His BE series should be in everyone's library. It will keep you from chasing tangents in the Scriptures. His books on preaching, ministry, and a host of other subjects will encourage you.