Find this product on Logos.com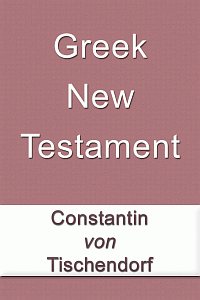 Greek New Testament - Tischendorf
Product Details
There were four main recensions of the Greek New Testament by Constantin von Tischendorf, dating respectively from his editions of 1841, 1849, 1859 and 1869-1872. This edition is the eighth edition and comes nearer to the testimony of the Sinaitic manuscript. The readings of the Vatican manuscript were given with more exactness and certainty than has been possible in the earlier editions. The text contains no accents or diacritical marks.
About the Author:
Lobegott Friedrich Constantin (von) Tischendorf (January 18, 1815 – December 7, 1874) was a noted German Biblical scholar. Tischendorf was born in Lengenfeld, Saxony, near Plauen, the son of a physician. Beginning in 1834, he spent his scholarly career at the University of Leipzig where he was mainly influenced by JGB Winer, and he began to take special interest in New Testament criticism. In 1838 he took the degree of Doctor of Philosophy, then became master at a school near Leipzig.
In 1844, he paid his first visit to the convent of Saint Catherine's Monastery, on Mount Sinai, where he found, forty-four pages of what was the then oldest known copy of the Septuagint. He deposited them at the University of Leipzig, under the title of the Codex Frederico-Augustanus, a name given in honor of his patron, Frederick Augustus II of Saxony, king of Saxony. The fragments were published in 1846 although he kept the place of discovery a secret. Also in the 1840's he deciphered the Codex Ephraemi Syri Rescriptus, a 5th century Greek manuscript of the New Testament. In 1859, he made a trip to a Syrian monastery under the patronage of Czar Alexander II of Russia to find more of the Codex Frederico-Augustanus or similar ancient Biblical texts. On February 4, the last day of his visit, he was shown a text which he recognized as significant — the Codex Sinaiticus — a Greek manuscript of the complete New Testament and parts of the Old Testament dating to the 4th century.