Find this product on Logos.com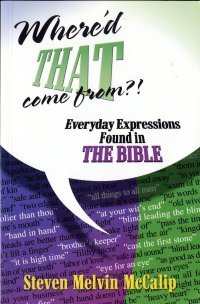 Where'd That Come From?
Everyday Expressions Found in the Bible
Highlights
Discover everyday phrases from the Bible
Over 500 phrases
Product Details
The English language is replete with idioms, sayings, and expressions of which a surprising number originate from or were made popular by the King James Version of the Bible. The words of this Bible translation have become imbedded in our common speech, yet we often speak biblical phrases daily without realizing we are quoting or alluding directly to the Bible. Some of the hundreds of examples that can be found in this work include:
"Rise and shine"
"Give up the ghost"
"The skin of your teeth"
"See eye to eye"
"Safe and sound"
"Eat, drink, and be merry"
In preparing this book, McCalip chose the sayings that he felt were most often used based on his personal experience and research. The expressions and common sayings listed in this book are all considered to be popular at one time or another by various authorities of English language studies. All Scripture quotations found in this book are from the King James Version.
A major portion of this work has been dedicated to explaining the biblical context of these phrases. Each popular expression is highlighted in the Scripture in which it is found, and each expression's biblical meaning (when not obvious) is discussed as well. The subject matter of the surrounding verses and the doctrines taught in those Scriptures are also often discussed. Helpful appendices contain less-detailed lists of biblical expressions from yesteryear along with lists of motion picture and popular music titles containing catchphrases from the Bible.
About the Author
Steven Melvin McCalip was born in Houston, Texas in 1961, a seventh generation Texan. After receiving his bachelor's degree in political science at Baylor University in 1984, Steven soon afterward got his teaching certification from the University of Houston. Steven completed work on his master's degree in education at the University of Houston-Victoria and has taught English, Social Studies, and education courses both on the secondary and college levels.
Steven first began serious writing in 1999 after he believed the Lord directed him to do so. In 2001 his first book was published Where'd That Come From? Everyday Expressions from the Bible. He also has self-published four other books.
Steve is now a prison counselor in the Texas Department of Criminal Justice helping inmates obtain education and vocational trades. Steven also teaches study skills at the local community college part-time.