Find this product on Logos.com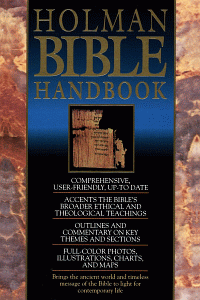 Holman Bible Handbook
This title works with the following Wordsearch products
Desktop
Highlights
Articles, outlines and commentary from leading evangelical scholars
Special section on historical background and recent findings in Biblical
archaeology
Points out theological teaching and ethical message of each Bible book
Features additional updated information than the printed version
Product Details
This practical tool brings an understanding of the ancient world together with the timeless message of God's Word to expand Biblical insights for the modern readers. Five sections offer practical study helps on all aspects of the Bible:
The Bible
The Bible in its World
The Bible in the Church
The Bible and its Message
The Bible and the Christian Faith
Endorsements
Here is a "user-friendly" Bible handbook that invites you to grasp the content of the Bible in its cultural, geographical, and historical setting... Between these pages is a small library of helpful material presented in such an attractive fashion that it will be difficult for you to put it back on the shelf. I'm enthusiastic about this volume.
I enthusiastically recommend the Holman Bible Handbook. Thorough exegetical notes and a broad range of feature articles make this volume a comprehensive tool which will prove to be an asset to every serious student of the Bible. All those who love the Bible will find a helpful companion in this work.
The new Holman Bible Handbook is worthy indeed! May it quickly elbow its way into the crowded world of reference books. In this powerful new resource, Holman forever dispels the idea that reference books need to be drab, gray, and intellectually stifling. Here in plain words and brisk illustrations is the distilled genius of an unbelievable gathering of scholars.
The Holman Bible Handbook is excellent. The work is informative, objective, and fully in touch with present-day scholarship. It is well-informed, up-to-date, user-friendly, thoughtfully laid out, and imaginatively colored. This is the most attractive and instructive Bible handbook I have seen. I recommend it with enthusiasm.
I am impressed by the vision for a handbook specifically designed for the contemporary Bible student. The visual emphasis of the Holman Bible Handbook is a helpful aid to the communication of thoughtful material rather than a substitute for careful study. I am impressed by the "faculty" that has been gathered for this project, representing as they do, a healthy cross-section of the evangelical community committed not only to first-class scholarship, but also to practical, spiritual application of the truth.
The new Holman Bible Handbook makes a splendid contribution to men and women interested in understanding the Scriptures. It is written in readable English and offers a multitude of pictures and charts so that those who can read can both see and understand. It's a handbook to keep on hand.
Holman has reached a new plateau of excellence with its Holman Bible Handbook. The authoritative new handbook will prove immensely helpful to Bible students on all levels.