Find this product on Logos.com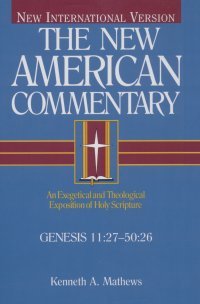 New American Commentary - Genesis 11:27-50:26
Vol. 1b
Highlights
A thorough, verse-by-verse analysis
Insightful and technical aimed at the serious Bible scholar
Great for the pastor or serious Bible student
Vast in scope, eventually to total 42 volumes
Over 40 scholars worked on the complete set
Named by the R. C. Ryan Center for Biblical Studies as one of the Best Tools for Preaching and Teaching
Product Details
Genesis stands second to none in its importance for proclaiming the whole will of God (Acts 20:27). Genesis is the essential foundation for the rest of the Bible. In his first volume, Kenneth Mathews said, "If we possessed a Bible without Genesis, we would have 'a house of cards' without foundation or mortar." While Vol. 1A dealt with the primeval history of Genesis 1-11, Vol. 1B begins with the call of Abram and follows the building of the nation of Israel through the death of Joseph in Egypt. Dr. Mathews argues that Genesis in its present form is a cohesive unit that shows thoughtful order and a self consistent theology. "Essentially, there is one mind that has shaped the book, whom we believe to have been Moses." The goals of this commentary are to describe the literary and theological contours of Genesis in the light of the book's overall structure. At the same time he keeps an eye on the place of Genesis within the five books of Moses and within the New Testament canon.
The New American Commentary is based on the inerrancy of Scripture, focuses on the intrinsic theological and exegetical concerns of each Biblical book, and engages the range of issues raised in contemporary Biblical scholarship. Drawing on the skills and insight of over forty Bible scholars, the New American Commentary brings together scholarship and piety to produce a tool that enhances and supports the life of the church.
About the Author
Dr. Matthews is professor of OT at Beeson Divinity School, Samford University. He is an acknowledged expert in the Dead Sea Scrolls, Text Criticism, biblical Hebrew, and the literary study of the OT, having written or edited books and articles in those areas. He is the coauthor of The Paleo-Hebrew Leviticus Scroll and the co-editor of Foundations for Biblical Interpretation. His commentary on Genesis 1-11 is a masterpiece of theological exposition that is guided by an extensive knowledge of ancient Near Eastern languages, literature, and culture and by a sensitivity to the literary features of the text and its canonical context. He has provided the church a classic treatment of these intriguing and challenging chapters of this foundational Bible book.
Endorsements
This up-to-date, scholarly volume provides a theologically rich exposition of Genesis 1–11. It is clearly one of the best evangelical commentaries on Genesis to have been written in the twentieth century. No student of Scripture should be without it.