Find this product on Logos.com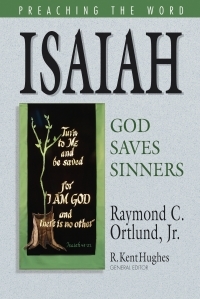 Preaching the Word - Isaiah
God Saves Sinners
Highlights
Noted for its commitment to Biblical authority
Clear exposition of scripture
Practical Application
Named by the R. C. Ryan Center for Biblical Studies as one of the Best Tools for Preaching and Teaching
Product Details
More than 2,700 years after Isaiah prophesied, God still speaks through him. Isaiah presents a message of warning mixed with hope, one rich in prophecies about Jesus Christ. A passionate expositional commentary, Isaiah is a valuable resource for pastors, teachers, and personal Bible study.
About The Author

Raymond C. Ortlund Jr. is the pastor of Immanuel Church in Nashville, Tennessee. Ray served on the Old Testament faculty of Trinity Evangelical Divinity School in Deerfield, Illinois, for nine years. He has also pastored churches in California, Oregon and Georgia. Ray holds a Ph.D. from The University of Aberdeen, Scotland. In addition to a number of essays and articles, he has published five books including A Passion for God, God's Unfaithful Wife, When God Comes to Church, and Supernatural Living for Natural People. Ray also participated in The New Living Translation and the English Standard Version of the Bible. He has been married to his wife Jani for 36 happy years.
Endorsements
The Preaching the Word Commentary is one of my favorites. The focus upon explaining the text with preaching it as the goal makes the series resonate with the priorities of the pulpit. No academic aloofness here, but down-to-earth, preacher meat for God's people.