Find this product on Logos.com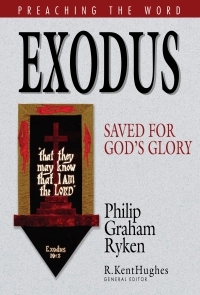 Preaching the Word - Exodus
Saved for God's Glory
Highlights
Noted for its commitment to Biblical authority
Clear exposition of scripture
Practical Application
Named by the R. C. Ryan Center for Biblical Studies as one of the Best Tools for Preaching and Teaching
Product Details
Philip Graham Ryken mines the majestic biblical book of Exodus for knowledge of God's character and instruction. Ryken's commentary moves readers to rejoice at God's work in the life of everyone who is on the path to spiritual freedom.
About the Author
Philip Graham Ryken is the pastor of the historic Tenth Presbyterian Church in Philadelphia. He graduated from Wheaton College, Illinois in 1988, from Westminster Theological Seminary in 1992 and from the University of Oxford in 1995 with a Ph.D in Historical Theology. He became a member of the pastoral staff of Tenth Presbyterian Church in 1995 and became the senior pastor in 2000. He is a member of the Alliance of Confessing Evangelicals.
He has written over twenty books dealing with the Christian faith and life. Some of his books are Jeremiah and Lamentations: From Sorrow to Hope, The Message of Salvation, Exodus: Saved for God's Glory, Tenth Presbyterian Church: 175 Years of Thinking and Acting Biblically, Written in Stone: The Ten Commandments and Today's Moral Crisis, and When You Pray: Making the Lord's Prayer Your Own.
Endorsements
The Preaching the Word Commentary is one of my favorites. The focus upon explaining the text with preaching it as the goal makes the series resonate with the priorities of the pulpit. No academic aloofness here, but down-to-earth, preacher meat for God's people.