Find this product on Logos.com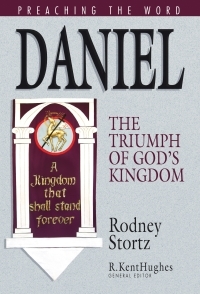 Preaching the Word - Daniel
The Triumph of God's Kingdom
Highlights
Noted for its commitment to Biblical authority
Clear exposition of scripture
Practical Application
Named by the R. C. Ryan Center for Biblical Studies as one of the Best Tools for Preaching and Teaching
Product Details
Containing both triumphant stories of God's provision and difficult prophetic images, the book of Daniel stirs readers' imagination and interest. Examples abound of Daniel's unswerving dedication to the God of Israel, and the prophet describes the coming days in striking detail.
Throughout this book the nature of Daniel's God is revealed to us. God's plans for the future judgment and deliverance of this world, and his followers' relationship with him throughout these events, mark the book. He is a God who loves his people and is in sovereign control over all the events of this world. His knowledge and control over both present circumstances and future events is undeniable.
In this study of Daniel, Pastor Rodney Stortz showcases the coming triumph of God's kingdom. Stortz's careful exegesis and perceptive applications focus on personal holiness, the wisdom and power of God, and the importance of Daniel's prophecies concerning the Messiah, the Antichrist, and Antiochus Epiphanes. In addition, this commentary uses the light of the New Testament to unseal Daniel's scroll, giving a clear understanding of his prophecies. This expositional commentary shows plainly how central the book of Daniel is for understanding coming judgment and the necessity for faithful living until then.
About the Author
Rev. Rodney Stortz was the Senior Pastor of Twin Oaks Presbyterian Church. Prior to serving at Twin Oaks Pastor Stortz was the Senior Pastor of Covenant Presbyterian Church in St. Louis, Missouri and the Senior Pastor of Westminster Presbyterian Church in Muncie, Indiana. He was a graduate of Covenant Seminary and Covenant College. He was married to Elizabeth and they have three daughters, Katie, Erin and Rebekah. Rodney Stortz passed away on March 9, 2003 from liver cancer.
Endorsements
The Preaching the Word Commentary is one of my favorites. The focus upon explaining the text with preaching it as the goal makes the series resonate with the priorities of the pulpit. No academic aloofness here, but down-to-earth, preacher meat for God's people.