Find this product on Logos.com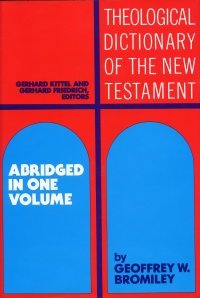 Theological Dictionary of the New Testament, Abridged Edition
Highlights
Gerhard Kittel's 10-volume work abridged into one volume edition or 'Little
Kittel'.
Provides an overview of the New Testament Theological usage
Considered the best New Testament dictionary ever compiled.
Gold Medallion award for Reference/Text (1986)
Used by many seminaries and Bible colleges as a core textbook
Includes added Strong's numbering system
Named as one of the 850 Books for Biblical Expositors by the Master's Seminary
Product Details
One of the most widely respected theological dictionaries put into one-volume, abridged form. Focusing on the theological meaning of each word, the abridgment contains English keywords for each entry, and tables of English and Greek keywords. Great for students who have limited or no Greek knowledge, but still want to discover the subtle nuances of Greek.
Features of the abridged edition:
The condensation is approximately 1/6th the length of the unabridged work
All of the entries found in the original are included in the abridgment, presented in the same order, and follow the same basic format
The emphasis of the abridgment is on the New Testament usage of each word
The footnotes and bibliographical material have been eliminated, as have many supporting details
Tables of Greek and English keywords are included to aid in locating popular discussions of particular words
Abbreviations are limited to familiar biblical, apocryphal and pseudepigraphal references; more obscure references have been spelled out
Concise and clearly written the condensed articles evidence Geoffrey Bromiley's through familiarity with the larger work, which he translated in its entirety.
Endorsements
In its new guise, where the accent is on the element of 'user friendliness' this shortened edition will make the riches of the parent volumes even more accessible.
A valuable compendium of the nine volumes of Kittel-Friedrich that will have a two fold usefulness: as a ready reference tool it will provide an overview of the New Testament Thelogical usage, and a preliminary guide will facilitate detailed study of the lengthy articles in the unabridged volumes.