Find this product on Logos.com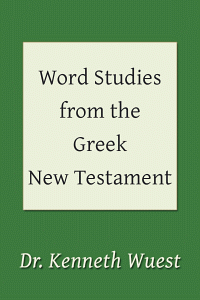 Word Studies in the Greek New Testament
Highlights
An essential reference set for any serious Bible student
Easy to use, easy to understand, not a technical word study
Majority of the Greek New Testament
Named as one of the 850 Books for Biblical Expositors by the Master's Seminary
Product Details
Widely used and highly recommended, Wuest's Word Studies in the Greek New Testament offers a wealth of knowledge and insight on the majority of the Greek New Testament. Originally in 16 volumes, Wuest offers in-depth analysis of the meanings of the original Greek word, considering the context of the the original words with the idioms placed in their cultural settings.
Gain for yourself a reliable understanding of the original meaning of the New Testament with this classic work. You do not need an understanding of Greek, to use this word study. Discover for yourself a clearer understanding of the culture, setting and language that gave us the New Testament.
This set includes commentaries on the Gospels and Epistles; graphic illustrations of selected passages, words, and phrases; and devotional studies on the teachings of Jesus and the apostles. Also included:
Golden Nuggets from the Greek New Testament
Bypaths in the Greek New Testament
Treasures from the Greek New Testament
Untranslatable Riches from the Greek New Testament
Studies in the Vocabulary of the Greek New Testament
Great Truths to Live By
Expanded Translation of the New Testament
About the Author
Kenneth Samuel Wuest (1893 – 1962) was a noted New Testament Greek scholar of the mid-Twentieth century. Wuest was a professor of New Testament Greek at the Moody Bible Institute in Chicago, and published over a dozen books on the New Testament. Wuest is often cited as an influential Evangelical and Dispensationalist scholar. He is also credited as one of the translators of the original New American Standard Bible.
Endorsements
Of particular value for those students who lack a personal knowledge of Greek.
Wuest was a beloved instructor at Moody Bible Institute for many years. At times he squeezed Greek words until they were about to bleed: but his simple studies reveal a love for Christ and a devotion to the Word.