Find this product on Logos.com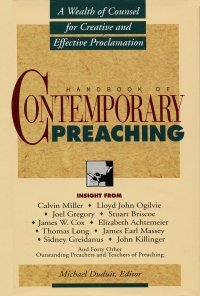 Handbook of Contemporary Preaching
A Wealth of Counsel for Creative and Effective Proclamation
Highlights
Recommended by many Bible Colleges and Seminaries
Most encyclopedic text on preaching in any language
Product Details
Perhaps the most encyclopedic text on preaching in any language—the finest counsel from many of the acknowledged grand masters of the contemporary pulpit, including: Calvin Miller, Joel Gregory, Stuart Briscoe, James Cox, Thomas Long, James Earl Massey and many more.
About the Editor
Michael Duduit is the founding publisher and editor of Preaching magazine. He is also the founding Dean of the new David T. Clamp Graduate School of Christian Ministry and Professor of Christian Ministry at Anderson University in South Carolina. Michael is author and editor of several books, including the Handbook of Contemporary Preaching, Joy in Ministry and Communicate With Power. From 1996 until 2000 he served as editor of the Abingdon Preaching Annual series. His email newsletter, PreachingNow, is read each week by more than 20,000 pastors and church leaders in the U.S. and around the world.
He is founder and director of the National Conference on Preaching and the International Congress on Preaching, which has been held in 1997 at Westminster Chapel in London, 2002 at the University of Edinburgh, Scotland, and 2007 at Cambridge. He has been a pastor and associate pastor, has served a number of churches as interim pastor, and speaks regularly for churches, colleges and conferences.
Dr. Duduit has taught and served on the administrative staff of several institutions, including Samford University, Southern Baptist Seminary, Palm Beach Atlantic University, and Union University, where he served from 1996 until 2002 as Executive Vice President and Associate Professor of Communication Arts and Christian Studies. A graduate of Stetson University (B.A., 1975) and Southern Seminary (M.Div., 1979), he earned the Ph.D. in Humanities at Florida State University (1983). Duduit is a former President of the Baptist Communicators Association, and is listed in Who's Who in Religion and in the most recent issue of Who's Who in America.