Find this product on Logos.com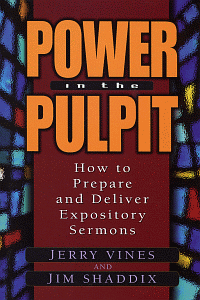 Power in the Pulpit
How to Prepare and Deliver Expository Sermons
Highlights
Offers practical help to the local church pastor
Divided into the three parts: preparation, process, and presentation of exposition.
Comprehensive, thorough, and exhaustive study of the art and science of expository preaching
The How to Manual for Expository Preaching
Product Details
Power in the Pulpit is the combination of two books on preaching, A Practical Guide to Sermon Preparation and A Guide to Effective Sermon Delivery, both written by Jerry Vines in 1985 and 1986 respectively. Dr. Jim Shaddix updated, revised, expanded Dr. Vines writings, and published them as Power in the Pulpit. This handy handy volume is suited not only as a classroom textbook, but also offers valuable help to pastor who prepares and delivers sermons each week.
Power in the Pulpit is divided into three major divisions: The Preparation for Exposition, which includes discussions on Defining the Task, Laying the Foundation, and Developing the Preacher. The Process of Exposition, takes the reader from choosing a text through building the sermon. and The Presentation of Exposition includes discussions on expressing thoughts through preaching style, use of voice, last minute preparations before delivering the sermon, and sermon delivery.
Endorsements
This book is an encyclopedia of practical and useful material for the serious preacher, but it reads like a fireside chat. Whether you're in your first church or a seasoned preacher, you'll find both information and inspiration in its pages, the biblical "how" and "why" of effective pultpit ministry. You'll enjoy reading the book and I predict you'll refer to it often.