Find this product on Logos.com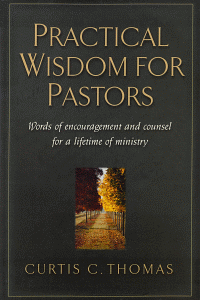 Practical Wisdom for Pastors
Words of Encouragement and Counsel for a Lifetime of Ministry
Product Details
As a pastor your job is filled with blessings and satisfaction, as well as unique challenges and pitfalls. Here a ministry veteran covers virtually all of those areas with a wealth of practical insight culled from forty four years in the pastorate. Blending his deep love of the Word and Commitment to Biblical ministry. Curtis Thomas offers a rich source of help and encouragement that will enthuse and benefit you whether you've pastored for five years or fifty.
About the Author:
Charles C. Thomas is a retired pastor, having served in Reformed Baptist churches for over thirty years, the final fourteen years at the Bible Church of Little Rock, Arkansas. He is co-author of Romans: An Interpretive Outline and The Five Points of Calvinism: Defined, Defended, Documented.
Endorsements
Having been a pastor for more than four decades, I can tell you that Curtis Thomas has done a great service for all pastors, young or old. I am happy to commend this work.
The young, beginning workman in God's vineyard could hardly find a more practical, helpful, and instructive work than this book. Curtis Thomas has produced the kind of useful guide that most experienced pastors may wish had been written in their early days of ministry. With sound judgment, good taste, and a mature knowledge of the pitfalls challenging every newly-ordained pastor or motivated layman in the church, the author brings together in this volume the real hands-on, how-to-do-it advice that can make the road to success a lot smoother.
I highly recommend Practical Wisdom for Pastors. I wish I had had something like this as a young minister. It would have saved me from many mistakes. It is a very practical and timely book for all in ministry.
Pastor Curtis Thomas has prepared a great gift for preachers in his new book, Practical Wisdom for Pastors. His seasoned advice and cogent comments will both guide and encourage ministers as they consider the task of this highest of all callings. Pastor Thomas has put us all in his debt as he has shared from the rich experience of his own ministry and from the wells of deep conviction.
Drawing from years of rich pastoral experience, Curtis Thomas dips his pen into an inkwell of wisdom and produces a "must read" for all in the ministry. Practical Wisdom for Pastors comes with my highest recommendation, as I have served with this author personally for over a decade and can testify to the validity of his message, as well as the messenger.