Find this product on Logos.com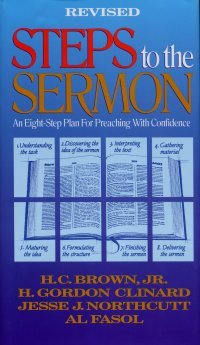 Steps to the Sermon Revised
An Eight -Step Plan For Preaching With Confidence
Highlights
Understanding the task
Discovering the idea of the sermon
Interpreting the text
Gathering material
Maturing the idea
Formulating the structure
Finishing the sermon
Delivering the sermon
College/seminary level textbook
Product Details
In the years since the original publication of Steps To The Sermon in 1963, audiences have become more sophisticated and preachers have learned to adjust their styles to reach today's media saturated mindset. Sermon styles have shifted from deductive to inductive. In view of these changes, Steps to the Sermon has been revised to help preachers communicate to the present generation. Readers of the first edition will be gratified to see that each of the basic "steps" have been updated for today's preacher.
Steps to the Sermon Revised is also an effective text for college and seminary level courses in preaching. Its step-by-step approach to sermon development, coupled with features such as chapter outlines and an extensive updated bibliography, make it a practical resource for experienced preachers.
About the Authors:
H.C. Brown Jr. was professor of preaching at Southwestern Baptist Theological Seminary from 1949 to 1973. He graduated from Louisiana College with an A.B. degree in 1946. He received the B.D. from the Southern Baptist Theological Seminary, Louisville, Kentucky and his Th.D. degree degree from Southwestern Baptist Theological Seminary. He pastored in Kentucky before joining the faculty at Southwestern Baptist Theological Seminary.
H. Gordon Clinard was professor of preaching at Southwestern Baptist Theology Seminary form 1955-66. He graduated from Union University in Jackson, Tennessee. He received his B.B and Th.D. degrees from Southwestern Baptist Theological Seminary, where he taught homiletics for more than ten years. He also was distinguished Professor of religion at Hardin-Simmons University's Logsdon School of Theology.
Jesse James Northcutt was born at Haskell, Texas in 1914. At the age of thirteen, under the influence of a Sunday school teacher, Northcutt was converted and baptized in the First Baptist Church of Duncan. He enrolled at Oklahoma Baptist University in Shawnee and graduated magna cum laude in 1936.
In 1936 he enrolled at Southwestern Baptist Theological Seminary. After Northcutt completed his master of theology degree in 1939 and he was elected to the faculty. For several years Northcutt served as a faculty member and graduate student at Southwestern Seminary. He earned his doctor of theology degree in 1947.
In 1944 Northcutt was elected as professor of preaching at Southwestern. In 1948 he was called to become pastor of the First Baptist Church in Abilene, Texas. The Abilene years were fruitful and the church prospered under his leadership. After a brief but highly successful pastorate in Abilene, he moved back to Fort Worth in 1950 to begin teaching theology.
Northcutt discovered, however, that he did not enjoy teaching theology as much as teaching homiletics. In 1951 he resumed his role of professor of preaching. Here Northcutt would make a major contribution to the strong tradition of Baptist preaching. During a teaching career spanning almost half a century, Northcutt taught more than 10,000 Baptist preachers.
Northcutt was elected dean of Southwestern Seminary's School of Theology in 1953 and continued in that administrative position for two decades. In 1973 the seminary was reorganized and he was elected vice president for academic affairs. In 1978 Northcutt returned to full-time teaching and was elected the E. Hermond Westmoreland Distinguished Professor of Preaching.
Southwestern recognized him as a distinguished alumnus in 1969. In addition to his academic work, Northcutt also was a member of the Rotary Club of Fort Worth and served as president in 1976-77. Northcutt died in Fort Worth in 1994 due to complications from Parkinson's disease.
Al Fasol is distinguished professor of preaching at Southwestern Baptist Theological Seminary in Fort Worth, Texas. He has taught at Southwestern since 1973. In 1961 Fasol pastored the Royalton First Baptist in Illinois and also served 18 months as interim pastor at Second Baptist Church in Little Rock, Arkansas. He graduated from Southern Illinois University and received his M.Div. and Th.d. from Southwestern Baptist Theological Seminary.