Find this product on Logos.com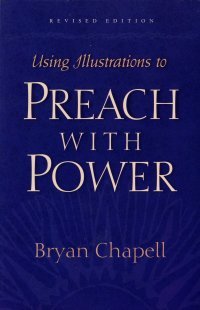 Using Illustrations to Preach with Power
Product Details
Illustrations capture our attention and further our understanding in a way that no other sermon tool can. This former pastor and current seminary president demonstrates why illustrations should be used in biblical preaching and then goes on to share how to find and integrate them effectively. Throughout his work Bryan Chapell makes it clear that illustrations are integral to effective preaching, not because they entertain, but because they expand and deepen the applications the mind and heart can make.
If the apostle Paul had not punctuated his words with images of the armor of God or the racecourse, would we so easily remember his instruction? The march on Washington might have become nothing more than a ragged hike across a majestic mall if Martin Luther King, Jr. had not led us through a "dream" and onto a "mountaintop."
Such is the power of illustrations. They contain a hidden dynamic of living that captures our attention and furthers our understanding in a way that no other sermon tool can match. Can they be overused and their purpose abused? Yes—and by many they are. But to eliminate them completely would be unwise, maintains Bryan Chapell.
Instead, he responds to those concerns by reviewing the theory behind illustrations, sharing why they're important, and demonstrating how you can use them effectively in your biblical preaching. This book clearly affirms that illustrations are integral to powerful preaching—not because they entertain but because they expand and deepen applications in the lives of your listeners. They infuse your words with life without comprising the message, making the truth of the Word ring clearly in people's hearts long after your sermon is done.
About the Author:
Dr. Bryan Chapell has been president of Covenant Theological Seminary in St. Louis, Missouri since 1994. His insightful Bible teaching can be heard daily via the Internet on Living Christ 360.
Raised in Memphis, Tennessee, Dr. Chapell was a pastor for approximately ten years before joining the faculty of Covenant Seminary, the seminary of the Presbyterian Church in America in 1985. He served the Seminary for six years as vice president for academics and dean of faculty before becoming president in 1994. He has been active in a variety of leadership roles in the PCA and in cooperative ministries with numerous other national and international Christian ministries.
Dr. Chapell is a renowned preacher, teacher, and speaker who is much sought after by churches, colleges, seminaries, and conferences throughout this country and abroad. He is the author of many articles and numerous books, including Praying Backwards: Transform Your Prayer Life by Beginning in Jesus' Name, Why Do We Baptize Infants?, Holiness by Grace, I'll Love You Anyway & Always, Each for the Other, The Wonder of It All and Christ-Centered Preaching, a preaching textbook now in multiple editions and many languages that has established him as one of the nation's foremost teachers of homiletics.