Find this product on Logos.com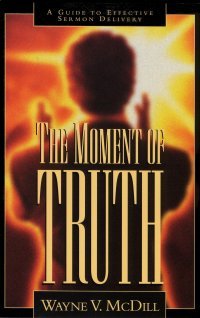 The Moment of Truth
A Guide to Effective Sermon Delivery
Highlights
Based on the unique method Dr. McDill has taught for nearly twenty years
Theologically based and filled with practical applications
Teaches preachers at every skill level
Product Details
You step into the pulpit. You look out at the congregation—it's "the moment of truth". Here's how to make it a moment of triumph.
In The Moment of Truth, Dr. Wayne McDill helps you discover how to make the maximum impact on your congregation from the pulpit, how to reach out to them with love and authority, and even how to fine tune your sermon on the fly based on the reactions of your listeners.
Using the unique method he has taught for nearly twenty years, Dr. McDill presents detailed steps of understanding how to read an audience by studying their faces and body language and how to respond to their subtle reactions and get your point across with power and confidence. His simple, yet specific techniques will help you cultivate a dynamic, compelling preaching style that will penetrate and persuade even the toughest audience member.
Theologically based and filled with practical applications, The Moment of Truth teaches preachers at every skill level how to make their special moment in the pulpit a profound moment of truth, turning people's hearts to the glory of God.
About the Author
Wayne McDill earned his B.A. at East Texas Baptist College; his M.Div. and Th.D. degree from Southwestern Baptist Theological Seminary. He is active in the Academy of Homiletics and Evangelical Theological Society. McDill has been teaching at Southeastern Baptist Theological Seminary since 1989 and is Senior Professor of Preaching at Southeastern Baptist Theological Seminary. He has nearly twenty years of experience in teaching students the art of preaching. McDill has authored four books including the 1994 release The Twelve Essential Skills of Great Preaching. He resides in Wake Forest, North Carolina.