Find this product on Logos.com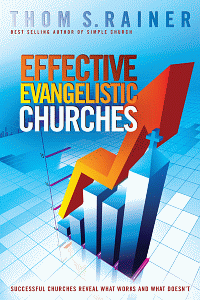 Effective Evangelistic Churches
Successful Churches Reveal What Works, and What Doesn't
Highlights
Includes churches with at least one baptism per 19 members annually
Churches range from 60 to 6,000 in membership; more than 2/3 claim 100-499
members
Reveals the seven evangelism tools most important to successful churches
Discusses popular misconceptions about church location, size, event evangelism
and more
Product Details
Part research project, part detective story, this book presents results from the most comprehensive study of successful churches in history. These 586 churches across America all excel in winning new souls for Christ, and have a remarkable range of things in common. Some stereotypes are shattered, some results are astonishing, and everything is written in a readable, non-technical style.
About the Author
Thom S. Rainer is the president and CEO of LifeWay Christian Resources. Prior to LifeWay, he served at The Southern Baptist Theological Seminary for twelve years where he was the founding dean of the Billy Graham School of Missions and Evangelism. He is a 1977 graduate of the University of Alabama and earned his Master of Divinity and Ph.D. degrees from The Southern Baptist Theological Seminary.
In addition to speaking in hundreds of venues each year, Rainer led Rainer Group, a church and denominational consulting firm, from 1990 to 2005. The firm provided church health insights to over 500 churches and other organizations over that period.
He is the author of twenty-one books, including Simple Church, The Book of Church Growth, The Bridger Generation, The Every-church Guide to Growth, The Un-churched Next Door Raising Dad, and Essential Church. Simple Life, is the latest release by Thom and Art Rainer.
Endorsements
Packed with insights on how effective churches really reach out to their communities. Based on a well-conceived study of 57 churches, it gives us facts, not theory. Save yourself some time and read this book!
Thom Rainer has, once again, produced a first-of-a-kind book. This time it is a hard, objective, factual look at the nuts and bolts that make a successful soul-winning church tick. Effective Evangelistic Churches is a powerful beacon light which will steer God's people to join the Master in seeking and saving the lost.
Get it, read it, implement its insights and its many varied, multifaceted experiences, and any pastor of any church in any part of the kingdom will be visited with glorious results from heaven itself.
Thom Rainer has taken us beyond theory of church growth. He has taken us into growing churches to document the principles of why they grew. Some sacred cows about growth don't stand up under the scrutiny of examination. At other places, we see new reasons why churches grow.
Thom Rainer moves the focus of church growth back where it belongs—to conversion growth of the church. By researching churches that are effectively reaching the lost, he finds out what really works, which brings both insight and encouragement to the task of intentional evangelism.
This book is truly a seminary course in evangelism and church growth.
I recommend Thom Rainer's book, Effective Evangelistic Churches, to anyone who honestly wants to look at solid principles of church growth for changing times. In days like this when paradigms of growth and effectiveness for churches seem to change with the wind, Rainer has once again provided an outstanding resource to help churches, pastors, and church leaders stay focused in their Great Commission task. It is a must to read for anyone building an evangelistic church.