Find this product on Logos.com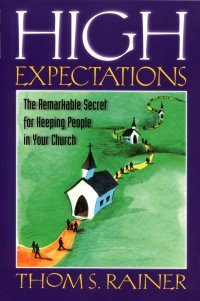 High Expectations
The Remarkable Secret for Keeping People in Your Church
Highlights
Discusses in depth how to involve and keep Church members
Prevent your church from getting people in the front door and losing them out the back
Product Details
The facts are in: The best way to retain Church members is to expect more of them.
For over a quarter of a century the problem of losing church members has progressively increased. Today the situation is so bad that less than one-third of the members in some churches attend worship services. Church leaders are crying for help.
In an effort to help church leaders, the Billy Graham School of the Southern Baptist Theological Seminary conducted a massive research project involving nearly 287 churches. The most revealing aspect of the study was that the higher expectations placed on members, the greater the likelihood that the members would stay and be involved with the church. Using the data gathered from this project, Thom Rainer presents the first-ever comprehensive study about 'closing the back door.' Rainer looks at why people are leaving the church and how church leaders can keep the members.
High Expectations offers specific proven steps for keeping members' interest at it's peak, including:
New Member Classes
Focus on Giving and Tithing
Mission Statements
Expository Preaching
Active Sunday School
Vital Youth Ministry
Pastoral Tenure and Stability
About the Author
Thom S. Rainer is the president and CEO of LifeWay Christian Resources. Prior to LifeWay, he served at The Southern Baptist Theological Seminary for twelve years where he was the founding dean of the Billy Graham School of Missions and Evangelism. He is a 1977 graduate of the University of Alabama and earned his Master of Divinity and Ph.D. degrees from The Southern Baptist Theological Seminary.
In addition to speaking in hundreds of venues each year, Rainer led Rainer Group, a church and denominational consulting firm, from 1990 to 2005. The firm provided church health insights to over 500 churches and other organizations over that period.
He is the author of twenty-one books, including Simple Church, The Book of Church Growth, The Bridger Generation, The Every-church Guide to Growth, The Un-churched Next Door Raising Dad, and Essential Church. Simple Life, is the latest release by Thom and Art Rainer.