Find this product on Logos.com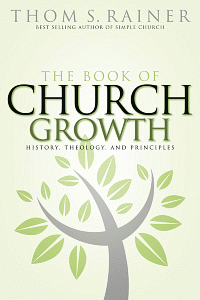 The Book of Church Growth
History, Theology and Principles
Highlights
True textbook for teaching Church growth
Outlines and details three aspects of Church Growth: History, Theology and Principles
Product Details
The Church Growth Movement has divided devout Christians. Even though Rainer is an advocate, his aim here is to present an objective view of the movement--its history, the theology associated with it, and the principles which seem to separate churches that grow from those that don't.
About the Author
Thom S. Rainer is the president and CEO of Lifeway Christian Resources. Prior to Lifeway, he served at The Southern Baptist Theological Seminary for twelve years where he was the founding dean of the Billy Graham School of Missions and Evangelism. He is a 1977 graduate of the University of Alabama and earned his Master of Divinity and Ph.D. degrees from The Southern Baptist Theological Seminary.
In addition to speaking in hundreds of venues each year, Rainer led Rainer Group, a church and denominational consulting firm, from 1990 to 2005. The firm provided church health insights to over 500 churches and other organizations over that period.
He is the author of twenty-one books, including Simple Church, The Bridger Generation, The Every-church Guide to Growth, The Un-churched Next Door Raising Dad, and Essential Church. Simple Life, is the latest release by Thom and Art Rainer.
Endorsements
This is a book not only for seminaries and Bible schools, but for pastors and church leaders wherever they might be and whatever their denomination. If you want to get your church off dead center and moving vigorously forward for the glory of God, you will find no better resource.