Find this product on Logos.com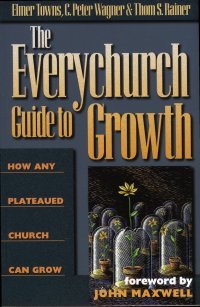 The Everychurch Guide to Growth
How Any Plateaued Church Can Grow
Highlights
Delivers detailed, practical instructions for reaching new levels of growth in
any size Church
From experts in the areas of Church growth: Elmer Towns, C. Peter Wagner & Thom
Rainer
Draw from the insights to help you be a more effective leader of your Church
Product Details
Keep Your Church Growing!
Three pastors share their proven steps for cultivating a growing congregation, no matter what size your Church is now.
A growing church is a living church, but much of the attention in church growth today is focused on making big churches bigger. This encouraging new book shows members of small and medium-sized congregations how to revive and expand their ministries as well. Churches of every size tend to plateau in attendance and never break free of their self-imposed limitations or 'growth barriers'. This book gives detailed, practical instructions for breaking through those barriers to new levels of impact and service in the community. The EveryChurch Guide to Growth rallies church leaders and members to develop plans for strength and solid growth in the future.