Find this product on Logos.com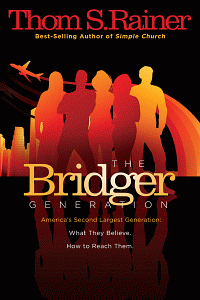 The Bridger Generation
America's Second Largest Generation, What They Believe, How To Reach Them
Highlights
Defines the future leaders of the next century-what are they like and how can you lead them to Christ
Product Details
The Bridger Generation is the first comprehensive study of the new generation, 72 million strong, born between 1977 and 1994. These are 'the Bridgers' who will be the first generation to come of age in the twenty-first century, bridging the gap between two centuries and two millennia. Rainer's in-depth analysis explores and explains revealing data, facts, and trends about tomorrow's leaders and how best to present them with the gospel of Jesus. Moving beyond the Baby Boomers, Busters, and Generation X, The Bridger Generation takes a unique first look at the next American demographic phenomenon.
A high percentage of this age group does attend church, but a much lower percentage of them are making commitments to Christ. Thom Rainer believes that churches need to emphasize evangelism to children and youth, not just provide youth entertainment programs. He gives some examples and characteristics of "bridger friendly" churches.
About the Author
Thom S. Rainer is the president and CEO of LifeWay Christian Resources. Prior to LifeWay, he served at The Southern Baptist Theological Seminary for twelve years where he was the founding dean of the Billy Graham School of Missions and Evangelism. He is a 1977 graduate of the University of Alabama and earned his Master of Divinity and Ph.D. degrees from The Southern Baptist Theological Seminary.
In addition to speaking in hundreds of venues each year, Rainer led Rainer Group, a church and denominational consulting firm, from 1990 to 2005. The firm provided church health insights to over 500 churches and other organizations over that period.
He is the author of twenty-one books, including Simple Church, The Book of Church Growth, The Every-church Guide to Growth, The Un-churched Next Door Raising Dad, and Essential Church. Simple Life, is the latest release by Thom and Art Rainer.