Find this product on Logos.com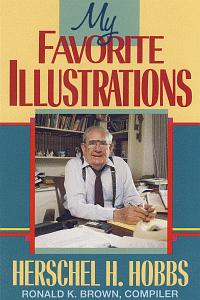 My Favorite Illustrations
Highlights
Over 100 Illustrations for preaching or teaching
Product Details
My Favorite Illustrations is a compilation of illustrations Dr. Hobbs has used in Studying Adult Life and Work Lessons. Included are anecdotes, quotations and poems.
About the Author
Dr. Herschel Harold Hobbs was born at Talladega Springs, Alabama. He made his profession of faith at 11, was baptized in a local creek and answered the call to preach at 19. He graduated from Howard College, now Samford University, in Birmingham, Ala., received a master's in theology from Southern Seminary and earned a Ph.D. in New Testament interpretation at Southern Seminary in 1938. Ordained in 1929 in Birmingham, he held several other pulpits before being named pastor of the First Baptist Church in Oklahoma where he preached from 1949 to 1972.
Dr. Hobbs served two terms, from 1961 to 1963, as president of the Southern Baptist Convention and leader of 10 million Baptists. He was best known as chairman of the panel that drew up a revision of the Baptist Faith and Message statement. The document, which was adopted by the convention in 1963, became the nearest thing to a creedal statement ever issued by the Southern Baptists.
His column, "Baptist Beliefs," was carried regularly by the weekly Baptist Messenger of Oklahoma City and other Baptist papers. For many years his sermons were also broadcast weekly over hundreds of radio stations on "The Baptist Hour." He was also a vice president of the Baptist World Alliance from 1965 to 1970.
Dr. Hobbs, one of his church's leading theologians, was the author of many books, including an autobiography. In it he stated that he was first and foremost a pastor and would remain one if he had 10,000 lives to live. Dr. Herschel Harold Hobbs died in 1995 at the Baptist Hospital in Oklahoma City.
About the Compiler
Ronald Brown received an M.Div. and D.Min. from Southern Baptist Theological Seminary. His ministry experience includes pastor, associate pastor, and minister of education and administration. He is also the editor of
Adult Life and Work
.