Find this product on Logos.com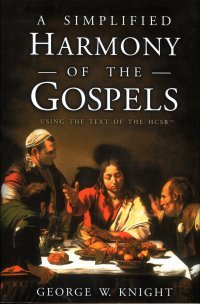 A Simplified Harmony of the Gospels
Highlights
All Scriptures taken from the Holman Christian Standard Bible
Sidebars call attention to major themes and difficult passages in the Gospels
Hundreds of study notes—a regular feature of every page—illuminate the text
Useful for both lesson and sermon preparation as well as stand-alone reading
Systematic reading plan for family worship and devotional use
The four Gospels woven into a single, running narrative
Product Details
This book reflects George W. Knight's conviction that there is a need for a simplified harmony directed to a popular audience; laypeople, ministers, Bible teachers, and other nonspecialist Bible students. Most harmonies are designed for scholars and other specialists who know the original Greek language and there is certainly a place for these books. But, in Knight's own Bible-teaching ministry, he often wished for a harmony that was simple, straightforward, and easy to use. The A Simplified Harmony of the Gospels is designed to meet this need.
This book also goes a step beyond most harmonies by including explanatory notes on the Gospel narratives. The purpose of these comments is to help the reader understand and apply the life and teachings of Jesus. Space limitations have kept these notes brief, but they still provide helpful information for general Bible students who do not have access to longer commentaries on the Gospels.
About the Author
George W. Knight III is a theologian and professor of New Testament at Greenville Presbyterian Theological Seminary; formerly, he was a professor at Knox Theological Seminary. He has authored several works, most notably The Pastoral Epistles. He holds a B.D. Westminster Theological Seminary, 1956; Th.M Westminster Theological Seminary, 1957. He received his theological doctorate from Free University of Amsterdam in 1968.