Find this product on Logos.com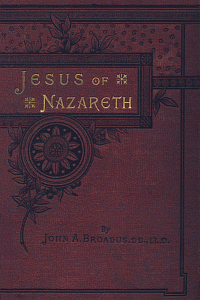 Jesus of Nazareth
His Character, Teachings and Supernatural Works
Product Details
Jesus of Nazareth is based on three series of lectures given at the YMCA of Johns Hopkins University in March 1890. Broadus touches on three aspects of Jesus's Personal Character, Jesus's Ethical Teachings, and Jesus's Supernatural Works. A warm and rich devotional reading that provides an overview of Jesus's earthly life.
About the Author
John Albert Broadus (1827-1895) is best known for his Treatise On the Preparation and Delivery of Sermons, it has been revised and edited many many times. He also published Lectures on the History of Preaching (1876, revised, 1896); A Commentary on the Gospel of Matthew (1886); Sermons and Addresses (1886); Jesus of Nazareth (1890); Memoir of James Petigru Boyce (1893); and the Harmony of the Gospels (1893). Served as Professor of New Testament Interpretation and Homiletics, Southern Baptist Theological Seminary, 1859-1895
Endorsements
This work exhibits Broadus devotion to the Jesus of Scripture and makes a compelling case for the creditability of the biblical text and the preeminence of a call to faith in the Savior. By personal experience in the lives of dear friends, Broadus knew the destructive tendency, and yet the deceitful academic charm, of modern critical theories concerning the historicity of Jesus and the art of Gospel writing, He stays the course and is model of scholarship and devotion for evangelical Christianity today.