Find this product on Logos.com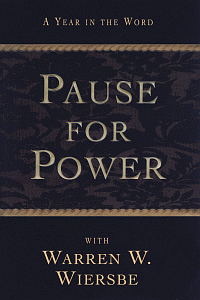 Pause For Power
A Year in The Word
Highlights
Spend time daily with Dr. Warren Wiersbe
Topics include: Renewal, Contentment, Wholeness, Comfort, Joy, Integrity, Confidence, Patience, Wisdom, Encouragement, Maturity and Hope
Originally published as 12 volumes
Product Details
God promises us again and again throughout His Word that He will be the source of our strength as we depend on Him. Pause For Power, a year-long devotional by Warren Wiersbe, one of America's best-loved Bible teachers, will point you daily to that Source, for the energy you need to keep your "spiritual batteries" charged.
Join Dr. Wiersbe as he guides you through twelve different books of the Bible—from Isaiah to 1 Peter, from Job to James—and provides insight and encouragement on such real-life themes as contentment, integrity, patience, and joy.
Each reading in Pause For Power is just a page and also features three questions to help you think through and apply God's truth. The book is undated, allowing you the flexibility to begin using it any time of the year.
About the Author
Warren Wendel Wiersbe is an American pastor, Bible teacher, conference speaker and a prolific writer of Christian literature and theological works. Born on May 16, 1929 in East Chicago; Warren Wiersbe is perhaps best known for his series of twenty-seven books in the "Be" series: Be Real, Be Rich, Be Mature, Be Joyful, etc. and other theological works.
Warren Wiersbe studied at Indiana University, Roosevelt University, and Graduated from Northern Baptist Theological Seminary in 1953. While attending Seminary, Warren Wiersbe was ordained as pastor of Central Baptist Church in 1951 and served until 1957. From September, 1957 to 1961, Warren Wiersbe served as Director of The Literature Division for Youth for Christ International. From 1961 to 1971 he pastored Calvary Baptist Church of Covington, Kentucky. The church grew from a church seating a congregation of eight hundred to building a new church with a seating of two thousand. From 1971 to 1978, Warren Wiersbe pastored Chicago's Moody Memorial Church.
Warren Wiersbe was awarded two honorary Doctorate Degrees and has accumulated in his personal library more then ten thousand books. Some times referred to as "the pastor's pastor", Dr. Wiersbe has become a well known and trusted Bible theologian and scholar throughout Fundamental and Evangelical circles. He and his wife, Betty, reside in Lincoln, Nebraska.
Endorsements
Warren Wiersbe has written or edited over 200 books. I have them all. Why? He's so balanced and biblical. While I'm blessed to have him as a treasured friend and hero, he doesn't want to be on the phone with me everyday. But I can read his works any day that I want. His BE series should be in everyone's library. It will keep you from chasing tangents in the Scriptures. His books on preaching, ministry, and a host of other subjects will encourage you.