Find this product on Logos.com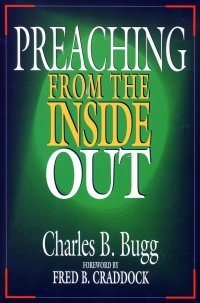 Preaching From The Inside Out
Product Details
The reader of this volume will soon discover that the experience of the book is that of listening to Professor Bugg talk to his students about preaching. Even when he is talking about his students, the professor is talking to his students. In other words, this book is conversational. The perceptive reader will find here easy access to much reading, reflection, experience, and prayer.
About the Author
Charles B. Bugg, a native of Miami, Florida, has spent his professional career as a pastor and professor of preaching. Dr. Bugg received his B.A. Stetson University; M. Div., Ph.D., Southern Baptist Theological Seminary. And also additional study at: Princeton Theological Seminary; Candler School of Theology, Emory University; College of Preachers, Washington, D.C.; John F. Kennedy School of Government, Harvard University.
Dr. Bugg currently serves as Professor of Church Ministry and Leadership at the M. Christopher White School of Divinity at Gardner-Webb University in Boiling Springs, North Carolina. He has served as Dean of the Divinity School at Gardner-Webb University, as well as the Kenneth Chafin Professor of Preaching at Baptist Theological Seminary in Richmond, Virginia. For four years he was the Carl E. Bates Professor of Preaching at the Southern Baptist Theological Seminary , Louisville, Kentucky.
Among churches which Dr. Bugg has pastored include First Baptist Church, Deland, Florida, First Baptist, Augusta, Georgia and Providence Baptist, Charlotte, North Carolina. In addition, he has served as Interim Pastor or Preaching Minister at over twenty churches.
He is author of seven previous books plus many articles. For two years, Dr. Bugg served as editor of the Abingdon Preaching Manual. Dr. Bugg frequently speaks at conferences, conventions, and churches. Among areas in which he leads conferences include preaching, worship, and leadership.
Endorsements
Witty! Practical! Must reading for the pastor interested in improving his preaching.Simple enough for the beginner, but stimulating and challenging for the experienced pastor.