Find this product on Logos.com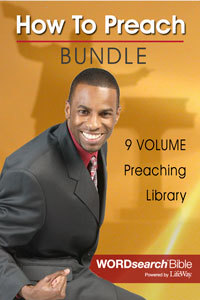 Product Details
In the How To Preach Bundle, you'll find 9 of our best books on the art of preaching. Whether you are a new pastor or a seasoned preacher, you'll have access to excellent advice, fresh ideas, and tools for honing your homiletical skills.
The How to Preach Bundle will help you sharpen your preaching skills and preach with new energy. The focus of this bundle is on how to preach and how to preach more effectively. On top of these practical and useful preaching tips, you'll also find helpful information on topics like how to be a better pastor for your congregation and how to balance the demands of life and ministry.
It's all here: delivery technique, organization, use of body language, textual interpretation, proper use of illustrations, understanding communication, duties of the pastor, examples from masters of preaching, and much more.
No matter if you are preparing to preach your 5th of 500th sermon, you'll find great suggestions in all of these books to help you do what you do best even better - preach God's Word.
Watch the demo video above, and click on the individual included books below for more information on each one.
After unlocking this bundle, each of the nine books will show up under their individual name within the Sermon Helps section of your library.
Products Included In This Bundle