Find this product on Logos.com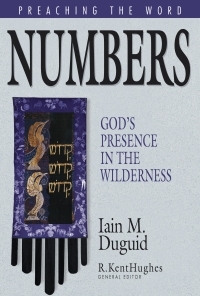 Preaching the Word - Numbers
God's Presence in the Wilderness
Highlights
Noted for its commitment to Biblical authority
Clear exposition of scripture
Practical application
Product Details
The book of Numbers tells the story of the events occurring in the years between the nation of Israel's exodus from Egypt and their entrance into the Promised Land. The lives of two generations are recorded: the first lacking in faith and receiving their just punishment from God and the second believing the Word of God and so entering into their inheritance as His children.
Like those generations of Israelites, Christians today are in the midst of a journey between events of deepest significance—the death of Christ that was the exodus from bondage to sin and death and Jesus' second coming to usher His children into the true and final promised land as a glorious destination to the journey.
Author Iain Duguid seeks to aid both pastors and laypeople on this journey by explaining the profundities of the biblical text, especially its less transparent portions, and communicating the lasting message of God's devotion to those who follow Him in faith.
About the Author:
Iain M. Duguid, M.Div., Westminster Theological Seminary; Ph.D., University of Cambridge, is Professor of Religion at Grove City College in Pennsylvania. A native of Great Britain, he taught at Westminster Seminary California from 1996 through 2005. He has also served as a missionary in Liberia, taught at Reformed Seminary in Mississippi, and planted churches in Fallbrook, California, and Oxford, England. He takes every opportunity to share his love for the Scriptures around the world: he has taught in Latvia, the Ukraine, Canada, and South Africa. In his seminary classes, Dr. Duguid is eager to help students learn how to preach Christ from ancient Hebrew texts in ways that minister to the hearts of contemporary congregations.
Dr. Duguid's has written a commentary on Ezekiel in the New International Version Application series, on Daniel (Reformed Expository Commentary), and on Numbers in the Preach the Word series, along with books on Abraham (Living in the Gap Between Promise and Reality), Isaac and Jacob (Living in the Grip of Relentless Grace), and the Beatitudes (Hero of Heroes). He is Old Testament editor for the Reformed Expository Commentary and has authored the volumes on Esther & Ruth and Daniel. He has contributed articles and reviews in the Westminster Theological Journal, Journal of the Evangelical Theological Society, Catholic Biblical Quarterly, Themelios and Tabletalk. He was a translator for the Holman Christian Standard Version of the Bible and a contributor to the New Living Translation Study Bible, the ESV Study Bible and the HCSV Study Bible.
Endorsements
The Preaching the Word Commentary is one of my favorites. The focus upon explaining the text with preaching it as the goal makes the series resonate with the priorities of the pulpit. No academic aloofness here, but down-to-earth, preacher-to-preacher meat for God's people.