Find this product on Logos.com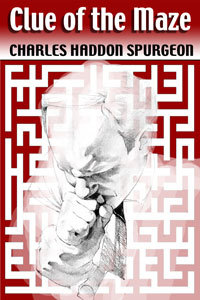 Clue of the Maze
A Voice Lifted Up for Honest Faith
Highlights
Smallest book Spurgeon wrote
Designed to lead doubters back to faith.
Product Details
The smallest book Spurgeon wrote was The Clue of the Maze, one of those waistcoat-pocket volumes which at one time were so popular. It was written during a holiday at Mentone, and is designed to lead doubters back to faith.
Spurgeon says, "Doubt dims and chills the day. A fog is over all things, and men move about like Egypt's ancients when they felt the darkness. Oh that this mist would lift! The best we can hope is that the present gloom may pass away right speedily, and that the cloud may leave a dew behind, to nourish a more intelligent and unquestioning faith. In this clammy skepticism no race but the puniest can be nurtured. Men who are greatly good are hillborn, and love the fresh air of the mountains of truth. The paragraphs of this little book are not supposed to be an argument. It was not may aim to convince an opponent, but to assist a friend. How I have personally threaded the labyrinth of life thus far, may be of helpful interest to some other soul which just now is in a maze. I hope that by these pages some true heart may be assisted to 'fight his doubts and gather strength.' Let no man's heart fail him, for the prevalent skepticisms are but 'specters of the mind.' Face them, and they fly. A great poet let fall the expression, 'honest doubt.' How greedily it was clutched at! Modern unbelief is so short of the quality that it seized the label, and, in season and out of season, it has advertised itself as HONEST doubt. It was in dire need of a character. Feeble as our voice may be, we lift it on behalf of HONEST FAITH."
About the Author
Few people in history can be known by one name and have it ring true with their audience, and Charles Haddon Spurgeon is one of them. Over time, Spurgeon has become known and revered as the "Prince of Preachers". In the last 200 years he has been one of the most influential men for not only Preachers of the Gospel but for those who have not had the opportunity to hear and receive the Gospel message. He wrote tirelessly over his life, and WORDsearch Bible Software is committed to bring as many of Spurgeon's works as possible to you in electronic form.
The details of Charles Haddon Spurgeon's life still continue to amaze one and all. He was born in Kelvedon, Essex, England, on June 19, 1834. He accepted Christ in 1850 at the age of 15. By age 16, he preached his first sermon in 1851, and by age 20, Spurgeon had already preached over 600 sermons. In 1854, Spurgeon was asked to become pastor of the New Park Street Chapel, one of the sixth largest Baptist Churches in London.
The 1200 seat Chapel had previously been pastored by Dr. John Gill among others, and it carried a rich heritage with it. Although the Church was located in the midst of a filthy industrial district which was hard to reach, by 1855, it was obvious that the Church must start meeting at the Exter Hall while the Church building was expanded. When the expansion was completed, it still was too small and the congregation was forced to start meeting at the Surey Music Hall. By 1856, over 10,000 people would crowd the hall just to get a chance to hear Spurgeon preach a sermon.
To accommodate the growing number of people, the church voted to build a new sanctuary and to change the name of the Church to the Metropolitan Tabernacle. On March 31, 1861, the first service was held in the sanctuary, with a capacity of 5,600 was the largest non-conformist church in the world.
When Spurgeon came to New Park Street in 1854 it had a membership of just 232 members. By the end of 1891, 14,460 souls had been baptized and added to the church with a standing membership of 5311. Spurgeon ministered there for over 30 years. It is estimated that over his lifetime he preached to over 10,000,000 people.
Endorsements
Heartily do we thank Mr. Spurgeon for the work, and commend the book as just what is often required for a present; it will be found to be acceptable by the uncultured and the cultured as well.