Find this product on Logos.com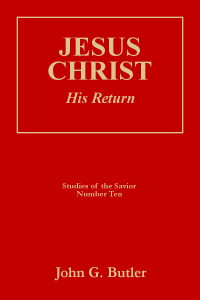 Studies of the Savior - His Return
Highlights
Part of a 10 Volume set on the Life Of Christ
Beautifully alliterated
A must have for expository preaching
Great for preaching and teaching through the Life of Jesus
Also adaptable for personal Bible study
By the same author of the Bible Biography Series
Product Details
The purpose of this study is to instruct the reader about the person and work of our wonderful Savior, Jesus Christ. Few people know much about Christ though they talk glibly about Him as though they were well-acquainted with Him. Right knowledge will correct a lot of poor doctrine, and if there is anywhere we need right knowledge, it is in the knowledge of Jesus Christ. The understanding of the issues of life that really matter is dependent upon our knowledge of Christ.
These books are written in the same manner as the Bible Biography Series by the same author. Thus they are expository studies of the Scriptures concerning Jesus Christ. They are outlined extensively to give organization and clarity to the study. This series on Christ is planned for ten volumes. These include His Incarnation, His Miracles, His Parables, His Encounters, His Followers, His Sermon on the Mount, His Praying, His Crucifixion, His Resurrection, and His Return.
About the Author
John G. Butler has been a Baptist minister for over half a century with "pastorates in Williamsburg, Ohio; Detroit, Michigan; Chicago, Illinois; and Clinton, Iowa. He is a veteran of the United States Navy, attended Tennessee Temple University and graduated from Cedarville University. Butler is also the author of the Bible Biography Series —a twenty-seven volume series about major Bible characters; the Studies of the Savior —a ten volume series about Jesus Christ; and, the Daily Bible Reading—a unique four volume devotional series that emphasizes expository Bible study.