Find this product on Logos.com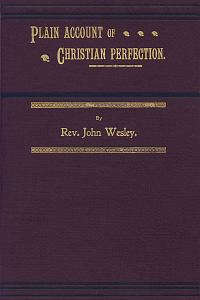 A Plain Account of Christian Perfection
Highlights
The complete original text as authorized by the Wesleyan Conference Office in London, England in 1872.
Wesley's most comprehensive and representative statement of Holiness
Product Details
This volume is John Wesley's most representative collection on Christian Perfection. "Now let this perfection appear in its native form, and who can speak one word against it? Will any dare to speak against loving the Lord our God with all our heart, and our neighbor as ourselves? Against a renewal of heart, not only in part, but in the whole image of God? Who is he that will open his mouth against being cleansed from all pollution both of flesh and spirit; or against having all the mind that was in Christ, and walking in all things as Christ walked? What man, who calls himself a Christian, has the hardiness to object to the devoting, not a part, but all our soul, body, and substance to God?"
None of Wesley's statements on holiness is more comprehensive and representative than what he penned in A Plain Account of Christian Perfection in 1777. Wesley's call to love God with all of our being rings true more than two centuries later.
About the Author
John Wesley (1703-1791) was an eighteenth-century century Anglican evangelist and founder of the Wesleyan Tradition. He is also credited as the founder of the Methodist church.
While at Oxford University, John and his brother Charles founded the "Holy Club" which was ascribed the epitaph "Methodists", because of their focus upon following rules when it came to personal conduct and religious observances.
The Methodism movement under Wesley's direction, took the lead in many social justice issues of the day including prison reform and abolitionism movements. Wesley's strength as a theologian lay in his ability to combine seemingly contradicting theological views. Wesley is best known for his promotion of what he termed "Christian perfection," or holiness of heart and life. Wesley insisted that in this life, the Christian could come to a state where the love of God, or perfect love, reigned supreme in one's heart.
The doctrines which Wesley revived, restated, and emphasized in his sermons and writings, are present personal salvation by faith, the witness of the Spirit, and sanctification.
Endorsements
No single person touched so many hearts and did so much for England