Find this product on Logos.com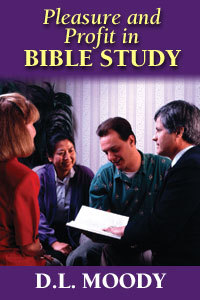 Experiencing Pleasure and Profit from Bible Study
Highlights
D L Moody was the first evangelist since Whitefield to shake two continents for God.
Product Details
The discipline of Bible study easily becomes a lost art even among the most committed Christians. D.L. Moody, one of the most renowned evangelists of all time, wrote this classic book presenting compelling reasons why study of the Bible is essential to the Christian life. He tackles and refutes common objections to the reliability of Scripture, thus encouraging readers to take hold of and get to know this treasure God has given His believers. To help them get started, he offers practical guidance on how to discover and apply the major biblical themes.
About the Author
Dwight Lyman Moody was born at Northfield, Mass., Feb. 5, 1837. Moody was an American evangelist and publisher who founded the Moody Church, Northfield School and Mount Hermon School in Massachusetts, and the Moody Bible Institute and Moody Publishers.
He may well have been the greatest evangelist of all time. In a 40-year period he won a million souls, founded three Christian schools, launched a great Christian publishing business, established a world-renowned Christian conference center, and inspired literally thousands of preachers to win souls and conduct revivals.
As shoe clerk at 17 in Boston, his ambition was to make $100,000. Converted at 18 and subsequently preached to 20,000 people a day in Brooklyn NY and admitted only non-church members by ticket!
His tour of the world with Ira D. Sankey was considered the greatest evangelistic enterprise of the century.
Endorsements
There can be no need for us to commend the living, blazing, speech of our brother Moody. Who can equal him in natural simplicity allaglow with holy passion.