Find this product on Logos.com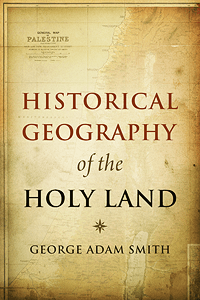 Historical Geography of the Holy Land
Highlights
A classic seminary textbook
Unsurpassed descriptions of Palestine
Set the standard for all modern treatments of Biblical geography
Product Details
The Holy Land has been called the "Fifth Gospel", and the next best thing to touring it yourself is to read G.A. Smith's Historical Geography of the Holy Land. This classic work, first published in 1894, set the standard for all modern treatments of biblical geography. Readers will be enchanted by Smith's intimate literary portraits of the physical and cultural setting of Scripture as it existed at the turn of the century when nomadic Bedouin still roamed freely upon the land and lonely pilgrims yet traveled the lanes by foot or horseback.
Historical Geography of the Holy Land provides pastors and teachers with an authentic treasure trove of insights into the context of Scripture, from the time of the patriarchs through the age of the Church. In turn, the poetic style of the book will appeal to lay readers and teachers alike, revealing Smith's own personal faith in the risen Lord, and brimming with gleanings for use in sermons and meditations.
About the Author
Sir George Adam Smith, D.D., LL.D. (1856-1942) was born in Calcutta, India, and was raised in Leith, Scotland. He attended Edinburgh University, and then pursued graduate studies in Old Testament and Hebrew at New College, Leipzig and Tübingen Universities. He traveled extensively in Palestine, Syria, Transjordan, and Egypt during the years 1879-80, 1891, 1901 and 1903, garnering an encyclopedic knowledge of the languages, customs and terrain of the Holy Land. His later expeditions discovered several important Greek inscriptions in Transjordan, and inscriptions of Seti I in Egypt. He was appointed to the position of Professor of Old Testament at Free Church College at Glasgow, Scotland in 1892. In 1909, he accepted the appointment as Principal of the University of Aberdeen, which he held until 1935. He lectured frequently at churches and universities in the United States during this time, and received a knighthood in 1916. While he published several books, he is best remembered for his Historical Geography of the Holy Land, and for Jerusalem: The Topography, Economics, and History From the Earliest Times to A.D. 70.
Endorsements
Very helpful to me in Old Testament research