Find this product on Logos.com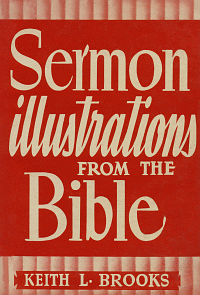 Sermon Illustrations from the Bible
Product Details
Here is "something new" in sermon illustrations. Dr. Brooks has prepared this to-the-point time-saving volume for pastors, Bible teachers, evangelists—all who seek to present the Word of God with power.
The subjects are topically arranged and unusual in that each of illustrations is from the Bible and firmly supported by related Scripture.
As Dr. Brooks declares in his introductory remarks to this unique supply of "sermon vitamins" a sermon "need not be limited to the exposition and enforcement of Scripture, for much of helpfulness is to be drawn from the books of nature and of human life," but "there are no better sermon illustrations than those to be found in the Bible itself. This work is intended to aid the preacher and Bible teacher in locating the best of these, for whatever topic he may seek to illuminate..."
About the Author
Keith L. Brooks began his career as a newspaperman and publisher. He was an outstanding scholar and an exponent of prophecy. He was active in the evangelistic field as a musician and Bible teacher. He has written scores of pamphlets and Bible study books, many of which have been translated into numerous languages for use on missions fields.
Brooks founded the American Prophetic League of Los Angeles in 1930. When Dr. Brooks died in 1954 his wife, Laura, continued the ministry of the American Prophetic League until 1960. The League's Prophecy Monthly merged with Moody Bible Institute's Moody Monthly. The published Bible study became the Teach Yourself the Bible Series from Moody Publishers.
Brooks is the author of Prophetic Questions Answered, Children's Gospel Commentary, Riches in Genesis, Rich Renderings of Holy Writ and many other widely circulated volumes.
Endorsements
Here's a collected galaxy of gems that will enrich the library of any preacher or teacher.