Find this product on Logos.com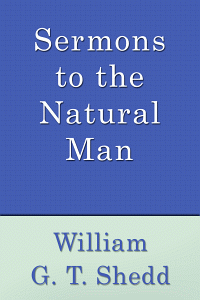 Sermons to the Natural Man
Highlights
Contains 20 sermons to the unconverted man
Published in 1871
Product Details
Sermons to the Natural Man are sent out into the world, with the prayer that God the Spirit will deem to employ them as the means of awakening souls from the lethargy of sin, and endeavor to produce the consciousness of it.
About the Author
William Greenough Thayer Shedd was born in Acton, Massachusetts in 1820. In 1835 Shedd began his studies at the University of Vermont. While there, Shedd became heavily influenced by his mentor, James Marsh, professor of philosophy and disciple of Samuel Taylor Coleridge. Shedd graduated from the University of Vermont in 1839 with an interest in theology and philosophy. Thereafter, Shedd entered Andover Theological Seminary in 1840, studying under theologian Leonard Woods. It was during his time in seminary where Shedd found the Presbyterian doctrine most congenial, in which he became its staunch advocate by being a voice for Calvinism. Shedd concluded his seminary education at Andover in 1843.
After a short pastorate at Brandon, Vermont, he was successively professor of English literature at the University of Vermont (1845–1852), professor of sacred rhetoric in Auburn Theological Seminary (1852–1854), professor of church history in Andover Theological Seminary (1854–1862), and, after one year (1862–1863) as associate pastor of the Brick Church of New York City and served as the Baldwin Professor of Sacred Literature at Union Theological Seminary, (1863–1874).
Dr. Shedd was a high Calvinist and was one of the greatest systematic theologians of the American Presbyterian church. He was a great defender of position that the whole Bible was inspired and inerrant word of God. He served as editor of Coleridge's Complete Works 1894. He has authored many books such as Dogmatic Theology, Sermons to the Natural Man, Sermons to the Spiritual Man, History of Christian Doctrine, and The Doctrine of Endless Punishment. Shedd died in New York City on November 17, 1894.
Endorsements
Sermons to the Natural Man' are, if not absolutely the best, yet of the very best doctrinal and spiritual sermons produced in this generation. We have known much of their power in convincing sinners, and in deepening, widening and exalting the experience of true Christians. Doctrinal preaching, though not in fashion, is the preaching that we need, and the preaching which always best vindicates itself when put to the test of practice. And of all the examples of doctrinal preaching in this generation, the sermons of Dr. Shedd excel in many particulars. He grasps the very heart and soul of the truth. He holds it in its entirety with uncompromising loyalty; he states it with wonderful clearness and accuracy, and illustrates and applies it with singular facility and grace of style.