Find this product on Logos.com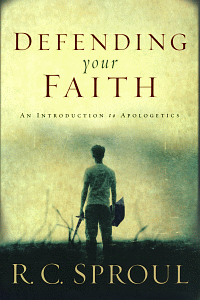 Defending Your Faith
An Introduction to Apologetics
Highlights
Affirms four logical principles on how to defend your faith
Product Details
You know what you believe, but could you explain it to someone who has strong doubts about Christianity truth claims?
Those who oppose Christianity work hard to close the minds and mouths of those who profess belief in Jesus, trying to make faith seem uneducated or naive. From secular universities to mainstream media, Christians find their fundamental beliefs challenged and ridiculed daily. In this book, respected author and teacher R.C. Sproul equips readers to give a convincing presentation of what they believe and to combat the common assault on their commitment to Christ.
Defending Your Faith is a survey of the history and fundamentals of apologetics. Dr. Sproul shows how reason and scientific inquiry can be allies in defending the existence of God and the historical truth claims of Jesus Christ. Readers who want a logical, biblical defense of the faith will find this book an indispensable resource for individual, small-group, or classroom study.
About the Author
Dr. Robert Charles Sproul was born in 1939 in Pittsburgh, Pennsylvania. He is the founder and chairman of Ligonier Ministries, which started as the Ligonier Valley Study Center in Ligonier, Pennsylvania, more than thirty years ago. In an effort to respond more effectively to the growing demand for Dr. Sproul's teachings and Ligonier's other educational resources, the general offices were moved to Orlando, Florida, in 1984, and the ministry was renamed "Ligonier Ministries."
Dr. R.C. Sproul is featured daily on Renewing Your Mind, an international radio broadcast that has aired for more than ten years with an estimated two million people tuning in every week on more than 235 radio outlets in the United States and throughout more than 40 countries. In addition, he can be seen daily on DirecTV. Dr. Sproul is a respected teacher, theologian, and pastor. He is currently serving as the director of Serve International, and as senior minister of preaching and teaching at Saint Andrew's Chapel in Sanford, Florida. Dr. Sproul is ordained as a teaching elder in the Presbyterian Church in America.
In addition, Dr. Sproul was the general editor of The Reformation Study Bible, which was also known as The New Geneva Study Bible, and he is the executive editor of Tabletalk magazine. As a prolific author he has written many books like: Chosen by God, Essential Truths of the Christian Faith, The Glory of Christ, The Holiness of God, The Intimate Marriage, Now, That's a Good Question! and many more. Dr. Sproul has produced more than 300 lecture series and has recorded more than 80 video series on subjects such as the history of philosophy, theology, Bible study, apologetics, and Christian living. He signed the 1978 Chicago Statement on Biblical Inerrancy, which affirmed the traditional view of biblical inerrancy, and he wrote a commentary on that document titled Explaining Inerrancy.
Dr. Sproul holds degrees from Westminster College, Pittsburgh Theological Seminary, and the Free University of Amsterdam, and he has had a distinguished academic teaching career at various colleges and seminaries, including Reformed Theological Seminary in Orlando, Florida, and Jackson, Mississippi, and Knox Theological Seminary in Ft. Lauderdale, Florida.