Find this product on Logos.com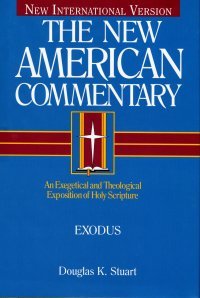 New American Commentary - Exodus
Vol 2.
Highlights
Commentary based on the New International Version
Sound scholarly methodology reflecting capable research in the original languages
Interpretation emphasizing the theological unity of each book and Scripture as a whole
Named by the R. C. Ryan Center for Biblical Studies as one of the Best Tools for Preaching and Teaching
Product Details
The New American Commentary Series
In development for over a decade, The New American Commentary series is for those who have been seeking a commentary that honors the Scriptures, represents the finest in contemporary evangelical scholarship and lends itself to practical work of preaching and teaching. This comprehensive series serves as a minister's friend and a Bible student's guide.
The New American Commentary is based on the inerrancy of Scripture, focuses on the intrinsic theological and exegetical concerns of each Biblical book, and engages the range of issues raised in contemporary Biblical scholarship. Drawing on the skills and insight of over forty Bible scholars, the New American Commentary brings together scholarship and piety to produce a tool that enhances and supports the life of the church.
In this volume, Dr. Stuart demonstrates his mastery of exegetical method, his sensitivity to the text, his courage in raising difficult questions, and his vast knowledge of ancient cultures as well as of grammar and theology in attempting answers to those questions. We are in his debt for this labor of love to bring us a superb commentary on this key book of the Old Testament in which God declares and displays his great Name.
About the Author

Dr. Stuart has been Professor of Old Testament at Gordon-Conwell Theological Seminary since 1971.
In 1964, Dr. Stuart received the Bachelor of Arts magna cum laude from Harvard College. He spent two years in graduate study at Yale Divinity School, and then returned to Harvard University, where he was awarded the Ph.D. degree in 1971. The subject of his thesis was Old Testament and early Semitic poetry.
Dr. Stuart is a scholar of the Old Testament, Assyrian and Babylonian languages and literature, and the cultures of the Ancient Near East. He controls the use of many languages including Greek, Hebrew, Latin, Aramaic, Egyptian, Ugaritic, Babylonian, Assyrian, Syriac, Arabic, French and German. At Gordon-Conwell, his courses are in such areas as Hebrew, Aramaic, Old Testament Survey, biblical exegesis, the prophetical books, the poetical books, biblical interpretation and more.
He is the author of articles in major journals and magazines, including the Journal of Biblical Literature, the Bulletin of the Schools of Oriental Research, Christianity Today and Decision. He has written 10 books: Studies in Early Hebrew Meter , Old Testament Exegesis , How To Read the Bible for All Its Worth , Favorite Old Testament Passages , Hosea-Jonah , Ezekiel , Word Biblical Themes: Hosea-Jonah , and A Guide to Selecting and Using Bible Commentaries , Malachi and Jonah in the New Bible Commentary and Zechariah .
Dr. Stuart is active in several organizations, including the American Schools of Oriental Research and the International Society for Septuagint and Cognate Study. He has served as co-chair of the Old Testament Colloquium for the Boston Theological Institute, a consortium of Boston's seminary and university Biblical professors. He is also past president of the Boston Orthomolecular Society, a trustee emeritus of the Massachusetts Bible Society and chair of the board of directors of Boxford Academy.
In addition to pastoring several churches in Massachusetts and New Hampshire, Dr. Stuart has preached and taught widely.
Dr. Stuart is frequently asked to lecture to college and university groups and has appeared as a guest on radio and television talk shows and Mysteries of the Bible. He is a pastor as well as a professor, and currently serves as the senior pastor of First Church Congregational of Boxford, MA.
Endorsements
The thing that most impressed me about this commentary was the easy proficiency with which Dr. Stuart exegetes how a particular Hebrew word or phrase should be taken in context, weaves in the ANE background, and demonstrates the way the theology not only relates to Exodus and the rest of the Pentateuch, but to entire biblical corpus. Those familiar with Dr. Stuart's prior work will not be surprised by the depth of scholarship undergirding his insights here. For a conservative commentary that is sufficiently meaty but still easy on the eyes, one could do no better.