Find this product on Logos.com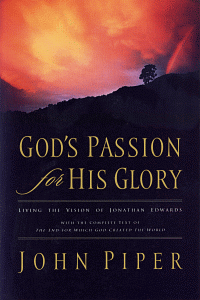 God's Passion for His Glory
Living the Vision of Jonathan Edwards
Product Details
In his essay, The End for Which God Created the World, the great theologian Jonathan Edwards proclaimed that God's ultimate end is the manifestation of his glory in the highest happiness of his creatures.
Pastor John Piper has devoted his years of ministry to exploring the implications of this stunning truth for life and ministry. Understanding that God is most glorified in us when we are most satisfied in him has made all the difference for John Piper—and can transform your life as well.
Here Piper passionately demonstrates the relevance of Edwards's ideals for the personal and public lives of Christians today through his own book-length introduction to Edwards's The End for Which God Created the World. This book also contains the complete essay supplemented by almost a hundred of Piper's insightful explanatory notes. The result is a powerful and persuasive presentation of the things that matter most in the Christian life.
"One studies the time and backgrounds of some men in order to understand them. Others have such rare greatness that one studies them in order to understand their times. Jonathan Edwards was such an original."
About the Author
John Piper is the Pastor for Preaching at Bethlehem Baptist Church in Minneapolis, Minnesota. He grew up in Greenville, South Carolina, and studied at Wheaton College, where he first sensed God's call to enter the ministry. He went on to earn degrees from Fuller Theological Seminary (B.D.) and the University of Munich (D.Th.). For six years he taught Biblical Studies at Bethel College in St. Paul, Minnesota, and in 1980 accepted the call to serve as pastor at Bethlehem. John is the author of more than 20 books and his preaching and teaching is featured on the daily radio program Desiring God. He and wife Noel have four sons, one daughter, and an increasing number of grandchildren.
Endorsements
No man is more relevant to the present condition of Christianity than Jonathan Edwards.