Find this product on Logos.com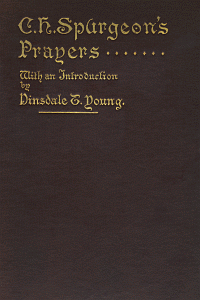 Highlights
From the Prince of Preachers
Product Details
Believers in general will be enriched by this volume because, Spurgeon's prayers were full of doctrine and encouragement from Scripture. But this book should especially appeal to the pastor whose pulpit prayers tend to become stale, repetitious, run-of-the-mill and virtually meaningless. Reading the prayers of great giants of the faith like Spurgeon aid in sharpening the prayers of those who pray publicly.
About the Author
Few people in history can be known by one name and have it ring true with their audience, and Charles Haddon Spurgeon is one of them. Over time, Spurgeon has become known and revered as the "Prince of Preachers". In the last 200 years he has been one of the most influential men for not only Preachers of the Gospel but for those who have not had the opportunity to hear and receive the Gospel message. He wrote tirelessly over his life, and WORDsearch Bible Software is committed to bring as many of Spurgeon's works as possible to you in electronic form.
The details of Charles Haddon Spurgeon's life still continue to amaze one and all. He was born in Kelvedon, Essex, England, on June 19, 1834. He accepted Christ in 1850 at the age of 15. By age 16, he preached his first sermon in 1851, and by age 20, Spurgeon had already preached over 600 sermons. In 1854, Spurgeon was asked to become pastor of the New Park Street Chapel, one of the sixth largest Baptist Churches in London.
The 1200 seat Chapel had previously been pastored by Dr. John Gill among others, and it carried a rich heritage with it. Although the Church was located in the midst of a filthy industrial district which was hard to reach, by 1855, it was obvious that the Church must start meeting at the Exter Hall while the Church building was expanded. When the expansion was completed, it still was too small and the congregation was forced to start meeting at the Surrey Music Hall. By 1856, over 10,000 people would crowd the hall just to get a chance to hear Spurgeon preach a sermon.
To accommodate the growing number of people, the church voted to build a new sanctuary and to change the name of the Church to the Metropolitan Tabernacle. On March 31, 1861, the first service was held in the sanctuary, with a capacity of 5,600 was the largest non-conformist church in the world.
When Spurgeon came to New Park Street in 1854 it had a membership of just 232 members. By the end of 1891, 14,460 souls had been baptized and added to the church with a standing membership of 5311. Spurgeon ministered there for over 30 years. It is estimated that over his lifetime he preached to over 10,000,000 people.
Endorsements
Lovers of C. H. Spurgeon will delight in this treasury of devotion. It was memorable to hear this incomparable divine when he preached. It was often even more memorable to hear him pray. Who talked with God as Spurgeon did? His congregational prayers--and I heard many--are always echoing in my grateful ear. To those who never heard Spurgeon's glorious voice, these printed prayers will be valuable as suggesting his prophetic power at the Mercy Seat.