Find this product on Logos.com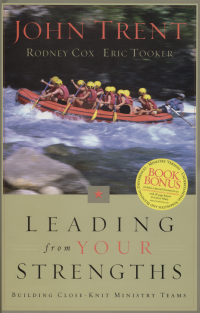 Leading from Your Strengths
Building Close-Knit Ministry Teams
Product Details
How would you like to feel understood and have information presented in ways you can process and act upon most effectively? How do you think your team would function if each member had an understanding of not only the personality types represented, but understood how to effectively communicate and cooperate with each? It's not hard to see the value of what understanding strengths and effectively blending your differences can mean to your ministry team efforts.
The Leading From Your Strengths process for building close-knit ministry teams is designed to help you discover the unique personalities hidden in your team. Understanding these unique personalities will help you identify and reduce predictable conflict and work together in ways that affirm each person's God-given strengths.
About the Authors
Dr. John Trent earned his B.A. in Psychology and Religion at Texas Christian University in 1974. He attended Dallas Theological Seminary where he received his Th.M. Degree in New Testament Greek in 1978. He received his Ph.D. in 1984, majoring in Marriage and Family Counseling and minoring in Psychology. For his internship, Dr. Trent spend a year working in the psychiatric unit alongside Drs. Paul Meier and Frank Minerith. Dr. Trent is an adjunct faculty member at Phoenix Seminary where he has taught marriage and family ministry courses. Dr. Trent also teaches at professional meetings for groups like American Association of Christian Counselors, Christian Association for Psychological Studies, American Marriage and Family Ministry, and has taught special sessions at schools and universities like Bethel Seminary, Azusa Pacific University, Liberty University, and many more.
Dr. Trent has authored and co-authored more than a dozen, award winning and best-selling books, including the million selling book, The Blessing. As a writer, Dr. Trent has been nominated for the ECPA's Gold Medallion Award for excellence in writing 17 times, winning 14 Silver Medallions and 3 Gold Medallion awards for excellence in Christian publishing.
Dr. John Trent is President and Founder of StrongFamilies.com, a ministry committed to building strong relationships in these stressful times. Dr. Trent's main focus includes writing and speaking at retreats, conferences, business settings, churches and seminars across the country. In addition to building family teams, Dr. Trent regularly speaks to corporate America on teambuilding, recruiting and retaining outstanding employees.
Rodney Cox is President and CEO of Insights International, and co-creators of the Leading From Your Strengths on-line strengths assessment. He has co-authored a series of books entitled Leading From Your Strengths and currently speaks nationally and internationally, helping people understand the divine design for relationships.
The Leading From Your Strength message has impacted more than 250,000 individuals and hundreds of teams both nationally and internationally as part of the growing Leading From Your Strength movement.
Rodney is a compelling speaker who challenges his audiences to build relationships based on their God-given strengths. He brings a profound understanding to how differences can complete and unite relationships, rather than divide them.
Eric Tooker serves as general counsel to Insights International. He currently devotes his time to helping the Leading from Your Strengths message reach as many people as possible.