Find this product on Logos.com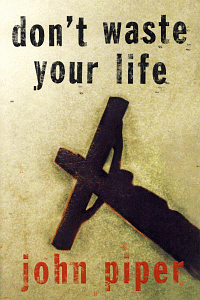 Highlights
Christian Book Award Gold Medallion winner
Product Details
Don't Waste Your Life makes a passionate call for this generation to make their lives count for eternity. John Piper acknowledges that the risks for those who seek to accomplish something in life—risks in relationships for the sake of righteousness and authenticity, risks with money for the cause of the Gospel, and risks in witnessing to the truth and beauty of Christ. Readers will find their passion for the cross of Christ enlarged as a result of reading this book.
John Piper writes, "I will tell you what a tragedy is. I will show you how to waste your life. Consider this story from the February 1998 Reader's Digest: A couple 'took early retirement from their jobs in the Northeast five years ago when he was 59 and she was 51. Now they live in Punta Gorda, Florida, where they cruise on their 30-foot trawler, play softball and collect shells. . . .' Picture them before Christ at the great day of judgment: 'Look, Lord. See my shells.' That is a tragedy.
"God created us to live with a single passion: to joyfully display his supreme excellence in all the spheres of life. The wasted life is the life without this passion. God calls us to pray and think and dream and plan and work not to be made much of, but to make much of him in every part of our lives."
Most people slip by in life without a passion for God, spending their lives on trivial diversions, living for comfort and pleasure, and perhaps trying to avoid sin. This book will warn you not to get caught up in a life that counts for nothing. It will challenge you to live and die boasting in the cross of Christ and making the glory of God your singular passion. If you believe that to live is Christ and to die is gain, read this book, learn to live for Christ, and don't waste your life!
About the Author
John Piper is the Pastor for Preaching at Bethlehem Baptist Church in Minneapolis, Minnesota. He grew up in Greenville, South Carolina, and studied at Wheaton College, where he first sensed God's call to enter the ministry. He went on to earn degrees from Fuller Theological Seminary (B.D.) and the University of Munich (D.Th.). For six years he taught Biblical Studies at Bethel College in St. Paul, Minnesota, and in 1980 accepted the call to serve as pastor at Bethlehem. John is the author of more than 20 books and his preaching and teaching is featured on the daily radio program Desiring God. He and wife Noel have four sons, one daughter, and an increasing number of grandchildren.
Endorsements
John Piper remains a trustworthy and faithful voice, urging God's people to behold, partake of, delight in, and live for the glory of God. With rare purity and passion, Piper's writing causes the reader to think less about the author and more about the object of his affection, his glorious and sovereign Lord.
John Piper has impacted my life more than any other writer in the 20th century.