Find this product on Logos.com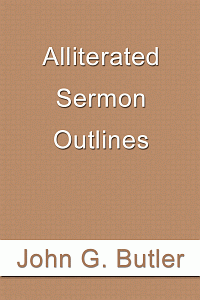 Alliterated Sermon Outlines
Highlights
An exclusive product to WORDsearch
Written just for pastor conference attendees
Product Details
Alliterated Sermon Outlines by John G Butler was written specifically for WORDsearch's annual pastors conference. John Butler has an amazing gift to alliterate and now he shares with you his step-by-step techniques of alliterating sermon outlines.
Butler addresses six aspects of alliteration:
The Precedence for Alliteration
The Purpose of Alliteration
The Practices of Alliteration
The Props for Alliteration
The Preparation for Alliteration
The Perils of Alliteration
About the Author
John G. Butler has been a Baptist minister for over half a century with "pastorates in Williamsburg, Ohio; Detroit, Michigan; Chicago, Illinois; and Clinton, Iowa. He is a veteran of the United States Navy, attended Tennessee Temple University and graduated from Cedarville University. Butler is also the author of the Bible Biography Series —a twenty-seven volume series about major Bible characters; the Studies of the Savior —a ten volume series about Jesus Christ; and, the Daily Bible Reading—a unique four volume devotional series that emphasizes expository Bible study.