Find this product on Logos.com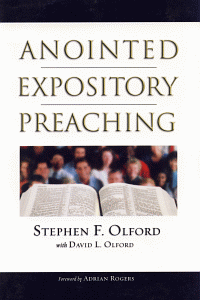 Anointed Expository Preaching
Highlights
Includes four appendices and selective bibliography
Named by the R. C. Ryan Center for Biblical Studies as one of the Best Tools for Preaching and Teaching
Product Details
Dr. Stephen F. Olford and Dr. David L. Olford, both widely respected preachers in their own right, define expository preaching as "exposing Scripture instead of imposing upon it." This book equips and encourages preachers of all kinds to respect their calling and minister God's inerrant Word by the Olfords' marvelous method.
Deeply spiritual and yet intensely practical, this book offers specific instructions to help preachers write, review, and rehearse their sermons, exposing the eternal truths of Scriptures and clarifying the themes of their message.
About the Authors

Stephen F. Olford was born in Zambia and was raised in Angola, where he committed his life to Christ and witnessed first-hand the transforming power of God and His Word. He spent his college years in the United Kingdom. After receiving ministry training, Dr. Olford was appointed an Army Scripture Reader during Word War II, and he launched a Young Peoples Christian fellowship in Newport, South Wales.
In 1953, Dr. Olford's years of pastoral ministry began by serving the Duke Street Baptist Church in Richmond, Surrey England, 1953-1959 and then the Calvary Baptist Church in New York City, 1959-1973. He pioneered a Christian TV program, Encounter, in New York, and his Sunday morning services were broadcast around the world on radio.
Dr. Olford moved to Memphis, Tennessee in 1985 to develop a training program and Center to encourage and equip preachers and teachers of God's Word. In 1988 the Stephen Olford Center for Biblical Preaching was dedicated, and it remains the headquarters of Olford Ministries International.
Dr. Olford has received numerous awards, honorary degrees and distinctions. As an ordained Baptist minister and a conservative evangelical by conviction, he ministered across many denominational, cultural, and racial lines. Besides his extensive preaching ministry. He authored numerous books, booklets, and preaching resources. Dr. Olford passed away in the fall of 2004.
David L. Olford is the Stephen Olford Professor of Expository Preaching for Union University and serves on the faculty of Union in the Christian Studies Department. He has served as President of Olford Ministries International and Director of Studies at the Stephen Olford Center for Biblical Training. For many years he was the host of the weekly radio program "Encounter."
Dr. Olford served with his father in ministry for over 19 years and has contributed to the newest edition of The Secret of Soul Winning, the classic book written by Dr. Stephen Olford. He's also written, Find Us Faithful and Leadership that Leaves a Legacy. Dr. Olford has served as an Adjunct Faculty member for a number of seminaries, and he has been a Board member of the National Religious Broadcasters and E.K. Bailey Ministries for many years.
Endorsements
Stephen and David Olford "have captured the pathos, ethos, and logos of monumental preaching and the teaching of preaching in one priceless volume.