Find this product on Logos.com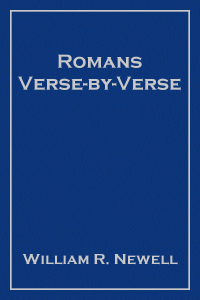 Highlights
From a dispensational perspective
Product Details
An excellent verse-by-verse, detailed commentary on the Epistle to the Romans. Romans Verse-by-Verse is analytical, yet practical and a wonderful devotional. This commentary has great footnotes and the doctrinal value is a very rare find.
About the Author
William Reed Newell was born on May 22, 1868, in Savannah Ohio. He attended Wooster Ohio College, graduating in 1891. After studies at Princeton and Oberlin Seminaries, he pastored the Bethesda Congregational Church in Chicago until 1895, when Moody invited him to become the Assistant Superintendent of Moody Bible Institute under R. A. Torrey.
In this position from, 1896-1898, Newell demonstrated his extraordinary gift of Bible exposition. Great audiences in Chicago, Detroit, St. Louis and Toronto flocked to hear his city-wide, weekly Bible classes, leading to the publication of his widely known commentaries. Through his teaching he had a tremendous impact grounding believers in the Pauline gospel of grace. It was during this period that Newell also wrote the beloved gospel hymn, "At Calvary."
New­ell moved to Lees­burg, Flor­i­da, in 1910, and for some time pas­tored the Pres­by­ter­ian church there. In 1956 he moved to Deland, Florida and passed away shortly after his eighty-eighth birthday.
Endorsements
Newell knows more about the book of Romans than any other man I know