Find this product on Logos.com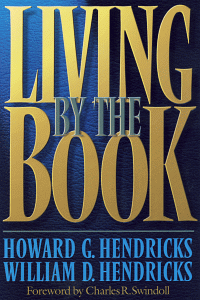 Product Details
You want to grow as a Christian. You want to understand God's truth and will. You want to live as Christ lived. In short, you want to become a person who is... Living By The Book.
Dr. Howard G. Hendricks will show you how — by unlocking the "secrets" of effective Bible study. Actually, there's no secret at all! Using a proven approach refined by more than forty years of teaching at Dallas Theological Seminary, this master teacher explains a three-stage process for discovering and applying biblical truth for yourself.
Why must we study the Bible? Starting with this pivotal question Dr. Howard Hendricks launches you on a journey through his practical and insightful method of Bible Study. Seminary professor, author, educator, innovator, Doctor Hendricks combines teaching excellence with wit and humor to present the process he has taught for almost forty years. This creative course comes with a comprehensive course notebook designed to enhance your participation. Optional assignments allow you to pick the level of study that best suits you. The shorter, interactive format increases your enjoyment of the video presentation and allows for more discussion.
About the Authors
Howard G. Hendricks (born April 5, 1924) is a longtime professor at Dallas Theological Seminary and speaker for Promise Keepers. Upon his graduation from Dallas, Hendricks accepted the pastorate at McKinney Memorial Church in Fort Worth, Texas. An opening on the seminary staff led Hendricks to begin teaching twice per week in the fall of 1951. After one year on staff, Hendricks resigned his post to pursue a doctorate at Yale University. However, the founder and President of Dallas Theological Seminary, Lewis Sperry Chafer, passed away and the new President, John Walvoord, asked Hendricks to delay his doctorate and return to Dallas as a teacher.
For over fifty years, Howard G. Hendricks has been a professor at Dallas Theological Seminary where he teaches "Bible Exposition and Hermeneutics" to freshmen. He has mentored many fine Christian leaders, including Chuck Swindoll, Tony Evans, Joseph Stowell and David Jeremiah.
He has been a keynote speaker for Promise Keepers and has authored sixteen books. He has ministered in over 80 countries and continues to maintain a hectic travel schedule despite being over eighty years old. He also served as chaplain for the Dallas Cowboys football team from 1976 to 1984.
William D. Hendricks is president of The Giftedness Center, a Dallas-based consulting firm specializing in organizational design and strategic people management. Bill is the author or coauthor of a dozen books, including the classic Your Work Matters to God, Living By the Book, and most recently, The Power of Uniqueness. His writings have appeared in The Wall Street Journal, The Dallas Morning News, Christianity Today and numerous other publications.
Endorsements
The teaching of Howard Hendricks on how to study the Bible is beyond great! How do I know? During my days in seminary, I drank in each word as I absorbed every session he taught, which changed my life! Not a week passes without my using some technique or principle that I learned from this gifted man.