Find this product on Logos.com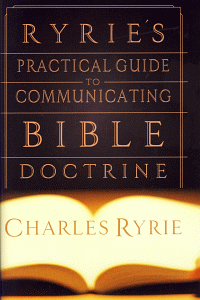 Ryrie's Practical Guide to Communicating Bible Doctrine
Product Details
In this concise and compelling handbook, respected evangelical theologian Charles Ryrie writes to Bible students and practicing pastors alike about the importance of communicating the doctrines of Scripture. Clearly, he explains why doctrinal truth from the Bible must be a key part of every preacher's message.
Using practical illustrations and applications, Ryrie addresses the reasons why so many people neglect doctrine and offers helpful ways of embracing doctrine through the use of major Bible passages, systematic theology, biblical theology, concordances, and more.
Well written and sure to be well worn, Ryrie's Practical Guide to Communicating Bible Doctrine is a trusted resource that readers will enjoy referring to time and again.
About the Author
Charles Caldwell Ryrie (A.B. Haverford College; Th.M, Th.D, Dallas Theological seminary; Ph.D.,University of Edinburgh; Litt.D., Liberty Baptist Theological Seminary) is professor-emeritus at Dallas Theological Seminary and Distinguished Professor at Philadelphia College of Bible. He is annotator of the Ryrie Study Bible, Expanded Edition and author of many books, including Balancing the Christian life, Basic Theology, and The Holy Spirit.