Find this product on Logos.com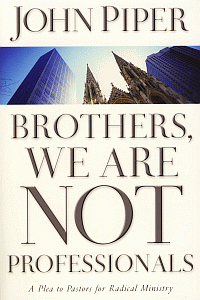 Brothers, We Are Not Professionals
A Plea to Pastors for Radical Ministry
Product Details
Pastor John Piper says, "We pastors are being killed by the professionalizing of the pastoral ministry. . . professionalism has nothing to do with the essence and heart of the Christian ministry. The more professional we long to be, the more spiritual death we will leave in our wake. For there is no professional childlikeness, there is no professional tenderheartedness. There is no professional panting after God."
In Brothers, We are Not Professionals — Piper pleas with his colleagues to abandon the secularization of the pastorate and return to the primitive call of the Bible for radical ministry.
About the Author
John Piper is the Pastor for Preaching at Bethlehem Baptist Church in Minneapolis, Minnesota. He grew up in Greenville, South Carolina, and studied at Wheaton College, where he first sensed God's call to enter the ministry. He went on to earn degrees from Fuller Theological Seminary (B.D.) and the University of Munich (D.Th.). For six years he taught Biblical Studies at Bethel College in St. Paul, Minnesota, and in 1980 accepted the call to serve as pastor at Bethlehem. John is the author of more than 20 books and his preaching and teaching is featured on the daily radio program Desiring God. He and wife Noel have four sons, one daughter, and an increasing number of grandchildren.
Endorsements
John Piper remains a trustworthy and faithful voice, urging God's people to behold, partake of, delight in, and live for the glory of God. With rare purity and passion, Piper's writing causes the reader to think less about the author and more about the object of his affection, his glorious and sovereign Lord.