Find this product on Logos.com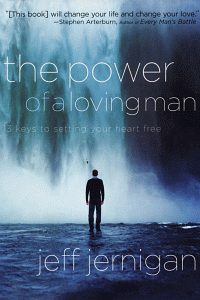 The Power of a Loving Man
13 Keys to Setting Your Heart Free
Product Details
It may not sound macho, but the world needs men who will love in ways that bring positive change to everything they touch. The Power of a Loving Man affirms masculinity as part of being made in God's image, and bravely embraces and applies the teachings found in 1 Corinthians 13:4-8, helping men learn to love as God intended. As a result, families, friendships, marriages, and more can be greatly strengthened forever.
About the Author
Jeff Jernigan has been an internationally published author since 1983 including books, articles, ans seminars. He has had extensive publishing and editorial experience with NavPress, Focus on the Family and Minirth Meier New Life Clinics. Jeff has served as a PEACE small group leader and adjunct instructor in several Saddleback Community Church ministries and continues to provide leadership in church development. Jeff and his wife Nancy own the Hidden Value Group Literary Agency and Jeff is the Senior Pastor of West Community Friends Church in Corona, California.
Endorsements
Transparent, informative, direct, encouraging, relevant, and caring. These are all the thoughts that come to my mind after reading Jeff Jernigan's book. As men, it is so hard to be transparent to other men, Jeff lays it all out for us to see. He offers insight into what he has learned through the mistakes and makes the lessons learned real to the reader. I highly recommend this book as an encouragement to any man wanting to discover how to be more loving and transparent.
Jeff has done a marvelous job of reminding us what it means to truly love. The Power of a Loving Man will change your life and change your love.
Masculine love is the ten-megaton warhead that will take us from superficial to supernatural impact in the world today. Men everywhere will be thanking Jeff Jernigan for handing them the codes which unlock the real power to be God's man. This book is like the big, red button in our masculine journey, if we depress it nothing in our lives, as men, will ever be the same.