Find this product on Logos.com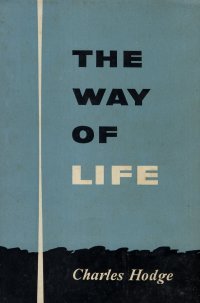 The Way of Life
A Guide To Christian Belief And Experience
Product Details
Originally written as a theological primer for intelligent youth, this devotional masterpiece includes chapters on The Word of God, Sin, Justification, Faith, Repentance and Holy Living.
About the Author
Charles Hodge (1797-1878) was the principal of Princeton Theological Seminary between 1851 and 1878. He is considered to be one of the greatest exponents and defenders of historical Calvinism in America during the 19th century.
He entered the College of New Jersey (now Princeton University) in 1812, and after graduation entered Princeton Theological Seminary. In 1819, Hodge was licensed as a minister by the Presbytery of Philadelphia, and he preached regularly at the Falls of Schuylkill, the Philadelphia Arsenal, and Woodbury, New Jersey over the subsequent months. In 1822, he was appointed by the General Assembly professor of Biblical and Oriental literature. He went abroad (1826–1828) to continue special studies in Paris, Halle, and Berlin.
In 1824, he helped to found the Chi Phi Society along with Robert Baird and Archibald Alexander. In 1825, he founded the Biblical Repertory and Princeton Review, and during forty years was its editor and the principal contributor to its pages. In 1840, he was transferred to the chair of didactic theology, retaining, however, the department of New Testament exegesis, the duties of which he continued to discharge until his death. He was moderator of the New Jersey General Assembly in 1846.
Hodge wrote many biblical and theological works. He began writing early in his theological career and continued publishing until his death. He is best know for his commentaries on Romans, Ephesians, 1 Corinthians, 2 Corinthians, as well as Constitutional History of the Presbyterian Church in the United States, Systematic Theology and What is Darwinism?. In addition to all this it must be remembered that he contributed upward of 130 articles to the Princeton Review, many of which, besides exerting a powerful influence at the time of their publication, have since been gathered into volumes in Selection of Essays and Reviews from the Princeton Review (1857) and Discussions in Church Polity (ed. W. Durant, 1878). These two publications have taken a permanent place in theological literature. All of the books that he authored have remained in print over a century after his death.
This record of Hodge's literary life is suggestive of the great influence that he exerted. But properly to estimate that influence, it must be remembered that 3,000 ministers of the Gospel passed under his instruction, and that to him was accorded the rare privilege, during the course of a long life, of achieving distinction as a teacher, exegete, preacher, controversialist, ecclesiastic, and systematic theologian. As a teacher he had few equals; and if he did not display popular gifts in the pulpit, he revealed homiletical powers of a high order in the "conferences" on Sabbath afternoons, where he spoke with his accustomed clearness and logical precision, but with great spontaneity and amazing tenderness.