Find this product on Logos.com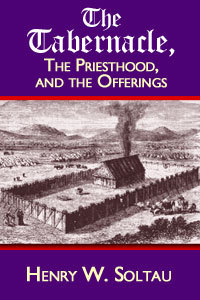 The Tabernacle, the Priesthood, and the Offerings
Product Details
The Tabernacle, The Priesthood, and The Offerings. is a precious legacy to the Church of Christ, unfolding, as it does, the beauties and glories of the Lord Jesus Christ as portrayed in the Jewish ritual.
About the Author:
Henry William Soltau was born in 1805; he was the second son of George Soltau, who was a merchant with a thriving business, in the port city of Plymouth England. Henry Soltau entered Trinity College, in 1825, and he earned his degree in 1827.
Soltau pursued a career as a lawyer, studying at Lincoln's Inn, and later was called to the Chancery Bar. He read extensively, with an interest in the natural sciences, also he studied Hebrew in order that he might have a better understanding of the Old Testament. In January, 1837, a letter from home said his mother was ill, and when a second letter arrived, Henry packed his bag. Upon his return to London, Henry gave up his legal practice and moved to Plymouth with his sisters. Henry became a prominent Bible teacher and an elder in the growing Plymouth assembly on Ebrington Street.
In 1860, Henry Soltau began losing his eyesight; fear of total blindness came upon him, but he did recover somewhat, and could still travel alone and could read a large print Bible. In 1861 he moved to Exeter where he produced his books The Tabernacle, the Priesthood, and the Offerings. and The Holy Vessels and Furniture of the Tabernacle.
Autumn of 1867 saw Rev. Soltau preach his last sermon, for his health was giving way. He spoke in London, and on that last Sunday, he preached six times. Shortly after, a stroke left him paralyzed. He never spoke again publicly. In 1870, he moved to Barnstaple to end out his days. On the first of July, 1875, the end finally came, after having he been unconscious for weeks, but on that day in July, he lifted his head, he opened his eyes, and a smile, as if it were from heaven shone on his face. Without a sigh or gasp, Henry William Soltau died.
Endorsements
This book discusses everything conceivable on this subject. The author brings out some wonderful lessons taught by the tabernacle. A great classic!